New 'university centre' to be created in former Hudson's Bay building in downtown The Hague
Leiden University, together with the Open University and Universities of the Netherlands, will take up residence in the Spui building at Grote Marktstraat 48-50/Spui 3 in downtown The Hague from 2025. The partners signed the leases on 7 November.
Leiden University previously signed a lease with landlord CBRE Investment Management to facilitate the growth of its Campus The Hague. The current agreements involve a contract with Leiden University as the main tenant of the building and contracts with the partners who will rent part of the building. Other strategic partners may rent space in the building in the future; discussions are ongoing with LUMC, among others.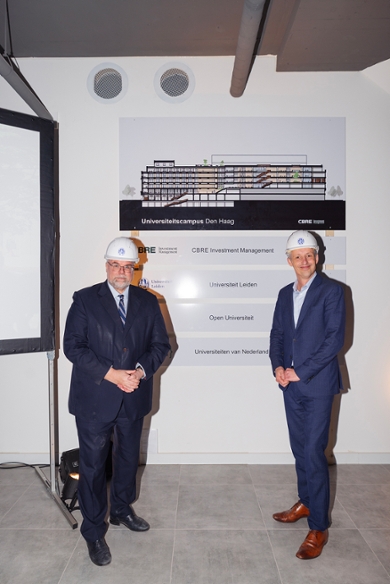 'I'm really pleased with this joint step in the development of a broad university centre in The Hague and with the municipality's support for this initiative,' said Martijn Ridderbos, Vice-Chairman of the Executive Board of Leiden University. 'We want our research and teaching to contribute to the city's development and to solutions to the challenges facing The Hague as a large international city. This centre in the city's centre will allow us to do just that.'
Not accidental housemates
The partners are not accidental housemates. Open University and Leiden University see opportunities to work together on themes such as artificial intelligence, sustainability and safety & security, but are also considering new lifelong learning offerings. Universities of the Netherlands, the association in which the 14 Dutch universities work together to build a strong university sector, represents all universities in the Netherlands and looks forward to establishing itself in this university environment. Besides working together on specific themes, the partners will make smart use of the shared facilities in the building, such as the restaurant and coffee and study areas.
Presenting the plans for the Spui building

Theo Bastiaens, Babs van den Bergh, Martijn Ridderbos, Marianne Wesselo and Erwin Muller

Alderman Saskia Bruines

Theo Bastiaens, Babs van den Bergh, Martijn Ridderbos and Marianne Wesselo sign the agreement

Raising a glass to the Spui building

View of The Hague
Plans and renovation
The Open University wants the centre in The Hague to be a real flagship with state-of-the-art facilities for its hybrid education and public presentations. Universities of the Netherlands, also currently situated in the centre of The Hague, sees this as the perfect spot, close as it is to government and the universities. The landlord will undertake a major renovation of the former Hudson's Bay building in the coming years and make it suitable for use by the university partners. Renovation work is scheduled to start in the first half of 2023 with completion in the third quarter of 2024.
Photos: Ehlana van Roijen