A quick call with Erick van Zuijlen about the Christmas Carol Concert
We will mark the start of Christmas together in the Great Auditorium on 22 December, with the Sempre Crescendo student music company singing Christmas carols for our students and staff. Enjoy atmospheric organ music, sing-along carols and mulled wine afterwards. 'It'll be a gem of an event,' says Beadle and host Erick van Zuijlen.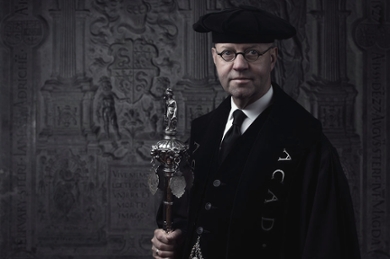 Hi Erick, why should we come to the concert on Thursday?
'Thursday is the last day of work or study in 2022 for most of our students and staff. The concert will treat them to beautiful music that will get them in the Christmas spirit. We have had a hugely hectic and eventful year, with all that is going on in the world, so we hope everyone will leave the concert with a real sense of belonging. And Sempre Crescendo is quite simply a fantastic choir – and one of the oldest student music companies in the Netherlands.'
What can the audience expect?
'The choir will sing, and there will be organ solos and three sing-along opportunities. Also worth mentioning: there will be a camera above the organ and the images will be projected during the concert, so you can see what the organist is doing. And there will be a reception afterwards with mulled wine, stollen and hot chocolate.'
Can you tell us a bit about how the idea for the concert came about?
'It was the idea of two driven men: organist Jan Verschuren and Bert Crama, who is responsible for the University organ. Back in 2018, they were organising summer organ concerts and the idea struck them of a Christmas concert too. Jan plays the organ on Thursday.'
What is your role?
'I get to act as host and welcome the conductor, choir, organist and visitors. I do that on behalf of our organising committee and the Executive Board.'
One last question: can you come even if you don't have the voice of an angel?
'Definitely! It'll be a really festive event, and the more that sing along, the merrier. And if you'd rather not sing, come along anyway for the music and Christmas cheer'
The Christmas Carol Concert will take place on Thursday 22 December from 16.15 until 17.00 hours in the Academy Building.
Text: Evelien Flink
A quick call with
There is never a dull moment within Leiden University. The websites are filled with news on a daily basis. In 'A quick call with' we ask one of our employees to tell us more about a relevant and current topic.