Multiple KHMW awards for science students
As many as seven first-year students from the Faculty of Science were honoured as young talents. In addition, the Royal Holland Society of Sciences and Humanities (KHMW) also lauded three master's students and an astronomy project during a vibrant ceremony on 28 November. Professor of Science Communication Ionica Smeets opened the afternoon with her speech: 'Don't believe in success stories - and other advice'.
Every year, the KHMW awards a number of prizes to young talent in technical and scientific subjects in science education.
65 first-year students received a Young Talent incentive award for the best study results in their first year of study. Among them are seven first-year students from the Faculty of Science. They received a certificate and 500 euros prize money. These are the Faculty of Science award winners:
Arne Wind: Incentive Prize in Physics and Engineering Physics

Charlotte Kling and Doğukan Yilmaz: Chemistry Incentive Prize

Daan de Bos: Incentive Prize Mathematics and technical mathematics

Pjotr Beerens: Incentive Prize Computer Science & Technical Informatics

Mare van den Heuvel: Incentive Prize Biology

Emmelie van der Veer: Incentive Prize Pharmacy or (bio)pharmaceutical sciences
The judges' report praised the young talents.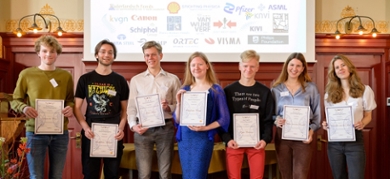 Dr. Saal van Zwanenberg Research awards
This award goes to pharmaceutical and medical science students who have written a master's thesis on a drug. This time, the third prize went to Leiden's Daan van Valkengoed from Life Science and Technology. He received the prize for his thesis 'Mathematical modelling of P-glycoprotein mediated drug efflux at the BBB in LeiCNS-PK4.0A: A perspective on the influence of parameter variability on bottom-up PBPK modelling'.
The Jury Report explains why Daan won the prize.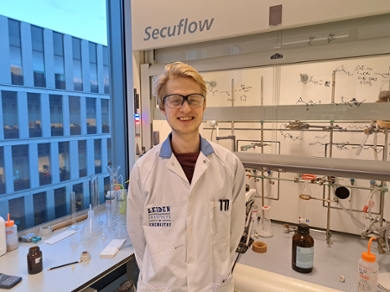 Award for Life Sciences
There is also a graduation prize for Life Sciences. Jeroen Punt received the second prize at the Pfizer Prizes for Life Sciences for his thesis 'Towards a new small molecule antibiotic targeting DNA gyrase based on a cis-2R,5S-disubstituted pyrrolidine conformationally restricted linker'.
The Jury Report explains why Jeroen won the prize.
Graduation award for Chemistry and Process Technology
Master's student Roy Stekener received the Royal Van Wijhe Paint Graduation Prize for Chemistry and Process Technology. He received the award for his thesis 'The Design and Synthesis of Novel Glycosyltransferase Inhibitors'.
The Jury Report explains why Roy won the prize.
KHMW Outreach Award
Every year, the KHMW also presents an award for young astronomers who manage to involve the general public in astronomy. This includes education, public activities and the use of astronomy to promote societal developments. The prize is intended for early career astronomers including master students, PhD students and postdocs who have set up a project in Dutch.
This year, the award went to the ALMAxLeiden project, which stands for 'Astronomy-inspired, self-guided walking tours through Leiden'. With this tour, the team aims to explain the power and importance of radio interferometry technology to a wide audience in a creative way. Together, Aida Ahmadi, Katharina Immer, Ashley Bemis, Alexander Hygate, Huib Intema, Marin Visscher, Violette Impellizzeri and Michiel Hogerheijde received a prize of 1,500 euros and will receive 3,500 euros to contribute to the costs of the project.
The Jury Report explains what made their project so good.
Recordings of the ceremony
Recordings of the ceremony can be seen on the KHMW website. The ceremony was in Dutch.
Pictures: Stéphanie Driessen