New commentary on the Constitution presented to Prime Minister Mark Rutte
The Netherlands has gained a third commentary on the Constitution – with Leiden as its home base. The first copy of Een nieuw commentaar op de Grondwet (A new commentary on the Constitution) (published by Boom Amsterdam) was presented to Prime Minister Mark Rutte in the Torentje last week.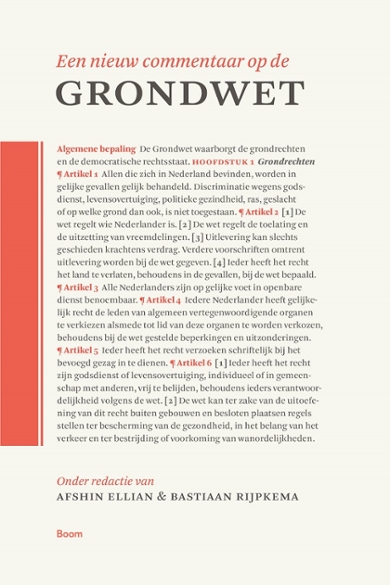 Een nieuw commentaar op de Grondwet offers readers a clarification and reflection on essential articles of the Dutch Constitution. The book also contains contributions dealing with what is missing in our Constitution, such as political parties and the European Union. The new commentary aims to bring the Constitution closer to a wider audience and to stimulate the (academic) debate about our Constitution. The book is the result of a collaboration between a total of 39 experts. A large number of colleagues from our faculty contributed, in addition to authors from eight other universities, institutes such as the Netherlands Institute for Human Rights, and ministries. Afshin Ellian and Bastiaan Rijpkema, who both work at the Department of Jurisprudence, edited the book.
The book will be launched on 7 December at the event Wat heb ik aan de Grondwet? at De Balie in Amsterdam. Pieter Heerma (chairman of the CDA party), Lisa Westerveld (MP for GroenLinks), Marcel ten Hooven (journalist for De Groene), Dominique van der Heyde (Chief of politics NOS), Jerfi Uzman (Professor of Constitutional Law at the UvA) and Jorieke Manenschijn (PhD student in Law, Leiden) will discuss the importance of the Constitution. More information (in Dutch) about the programme and registration can be found via this link.
Interviews on the publication have been given in De Volkskrant (link), Het Nederlands Dagblad (link), Met Het Oog Op Morgen (link), Goedemorgen Nederland ((link) and a pre-publication appeared in EW (formerly Elsevier). More information about the book can be found on the website of Boom Amsterdam (link).