Old tradition of 'golden PhDs' reinstated
Black-and-white photographs filled with solemn young men and distinguished professors line the walls of the Grand Auditorium. Young women are missing from the photos; women rarely obtained PhDs 50 years ago. And this article is about that group, the PhD candidates between 1966 and 1972, who were invited to celebrate their 'golden' doctorate.
Retired professor of sociology Kees Schuyt addressed his contemporaries on that special occasion in late November. Had he taken the floor half an hour earlier, it would have been exactly 50 years since he obtained his PhD at Leiden University. Schuyt had been waiting for a ceremony like this for some time, he told his audience. After all, when he was writing the biography on Professor Cleveringa, he discovered photos in the family archives of the certificate that Cleveringa received 50 years after obtaining his PhD. Schuyt hoped he would one day receive the same.
Fortunately for Schuyt, the university reinstated this tradition just in time. Lilian Visscher, director of alumni relations and the Leiden University Fund, explains they had planned this event for 2020 but the coronavirus pandemic caused a delay. She was pleasantly surprised at the high turnout in the Grand Auditorium and at home behind computers, where people were watching the programme via the livestream. 'That shows you also still feel a connection with us.'
University's ambitions for growth
Annetje Ottow, President of the university's Executive Board, gave the golden doctors an update on the university. She spoke about the rapid growth in The Hague, where 7,500 students are now studying and where the campus wants to grow to 10,000 students. In total – meaning in Leiden and The Hague – the university expects to grow to 38,000 students.
And that is big enough, Ottow said, to maintain academic ambitions and standards. Scientific research in Leiden is as important as ever, she stressed. Of the 101 Spinoza grants awarded since 1995, 25 have gone to Leiden scientists, Ottow proudly explained. And she offered special thanks to the alumni whose financial donations make research in Leiden possible.
Turbulent period in university history
University historian Pieter Slaman also pulled out the figures for the golden doctors. 'You are pretty special', he reminded them. After all, there were not that many PhDs conferred in the period between 1966 and 1972. Students began to find the path too long. After about six years, they preferred to go to work or, because that was also delayed, do their compulsory military service. Moreover, studying for a PhD was not always well organised in those days. Supervision was still sometimes lacking, appointments were set up so students could only work on the dissertation in their free time, and the PhD supervisor did little more than patiently wait for the stack of paper to arrive.
It also was a turbulent period in the university's history, including the occupation of the Academy Building. 'Admittedly in a Leiden fashion', Slaman recalls the period. 'For 11 days, discussions continued day and night in a room designated by the rector. Everything else remained open.'
Few women
Defending one's PhD was a clash of cultures 50 years ago. Some appeared in wool jumpers, while others arrived by carriage with top hats. These days, obtaining a PhD is a lot more structured, Slaman explained, with two supervisors helping you. 'And it's also a much more massive undertaking. If you think you can arrange for a room in the Academy Building in a week's time, you're wrong. There's a waiting list of several months.'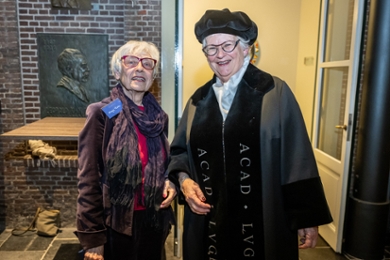 Many more women are also studying for a PhD these days. Of the 451 people who obtained a PhD this year, 246 were women. 'In your time, only three per cent were women.' Marja Hoeke is among that select group. She was also the only female 'golden doctor' present that day. She began her studies in pharmacy in 1952 and obtained her PhD on 10 June 1970. 'It was quite exceptional to pursue a PhD after the long scientific training', she remarked upon receiving the gold pin presented to all the attendees.
'Seize your rights'
However, she followed her own path. That led from a university education to radiopharmaceuticals, where she was the first to combine pharmaceuticals and radioactivity on an industrial scale. She was later invited to set up a laboratory for that combined discipline in the US. She pursued a range of very different activities after that, and her best memories are of working at the Health Council.
Being a woman has never held her back. 'That didn't affect me. I never felt it was a struggle and I never felt, as they sometimes said, pulled ahead. I just went my own way, and I still think like that. If girls want to go and demonstrate for equal rights, then I say: "Demonstrate? Just seize those rights!"'
PhD defence 50 years ago. Photo: Paul Groenewegen

The golden doctors

Former PhD candidates in the auditorium
Text: Marijn Kramp
Photos: Monique Shaw