Maureen Rutten-van Mölken: 'Invest in innovations that produce the most health benefits'
Digital medical technology can help provide affordable care and solve the shortage of health workers. But how do you know if an innovation actually adds net value to the entire healthcare system? Professor Maureen Rutten-van Mölken uses health economic models to find out. 'We are working on getting innovators to consider cost-effectiveness right from the start of an innovation process.'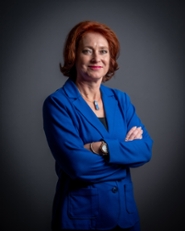 Maureen Rutten was already a professor at Erasmus University Rotterdam (at Erasmus School of Health Policy & Management) and one of the scientific leaders of the 'From Prototype to Payment' Medical Delta programme and has now also been appointed as a Medical Delta professor at both the LUMC and Delft University of Technology.
'This is confirmation and recognition for my recent work,' says Rutten. 'In recent years I've been the linking pin between research at Erasmus University, Erasmus MC, the Faculty of Industrial Design at Delft University of Technology and the LUMC. If we can bring these partners closer together, we can help developers embed their technology in a faster and smarter fashion into existing healthcare processes.'
Can you tell us a bit about your expertise?
'I am a health scientist and health economist. With my research, I help make decisions about including digital medical technology in our basic health insurance. We are using a health technology assessment to research the target population's burden of disease, whether the innovation is effective and cost-effective, and what this means for the healthcare budget.
'Since the introduction of the drug policy in the 1980s, the cost-effectiveness of new drugs must be demonstrated when applying for reimbursement. This whole field has developed significantly since then. This was not yet required in medical technology, but that has been changing in recent years.'
What does this mean for the technologists working on healthcare innovations?
'Innovators usually focus on the technical or biological side of their innovation and aren't used to thinking about what proposition is best. For which target group is it most effective? What does this mean for the entire workflow? Should I offer training for practitioners, for example? What regulations prevent my innovation from being used? Innovators are often less versed in explaining how their innovation is effective in everyday medical practice.
'We look very systematically. What are the benefits for the patient and society? And what are the costs? Does it lead to net benefits or not? That's how we ultimately inform insurers whether it's a good intervention. That's the front-end process. The sooner you start with this in the innovation process, the more likely you are to develop good propositions. That can mean you decide early on not to pursue certain innovation routes because there is little chance that they will be cost-effective, for example because there are already several cheaper alternatives for that route. We are working on getting innovators to consider cost-effectiveness right from the start of an innovation process.'
'We try to paint the overall picture so that an innovation also works well in practice.'
'Then there is the back end. When you bring a specific innovation to market, it can have major consequences for healthcare practice. That impact is often much more extensive for equipment and medical devices than for drugs. If you start working with a new digital intervention, it often means a completely different workflow. You have to think about that carefully if it is to take off. For this, we can design smart implementation strategies with those involved.
'A concrete example is the remote monitoring of people with heart failure. You have to invest in all kinds of sensors and apps that people use at home. Overall, the evidence suggests that this is high-quality and cost-effective care. It prevents readmissions and we see reductions in mortality. However, this also means fewer people coming to hospital and fewer beds being occupied. This in turn has consequences for the financial position of the hospital's cardiology department.
'Then you have to think about new funding models, for example, to get them on board. There is also a greater demand for other types of care staff. Data analysts and specialised nurses, for example, who look at the alert system based on algorithms. This causes responsibilities to shift. We try to paint the whole picture so that innovations also work well in practice.'
How does Medical Delta benefit your work?
'Mainly in the easier access to a very large network of experts from different disciplines. They make the work fun and lead us to the most interesting innovations.'
What is your added value for Medical Delta?
'My years of Health Technology Assessment expertise, which I also use in the 'From Prototype to Payment' Medical Delta programme. We do more fundamental research with a large multidisciplinary team of scientists into better evaluation methods and models, incentives in reimbursement models, the impact of technology on the organisation of care and healthcare professionals, and ensuring rapid access to valuable new technology.
'I would like to see more people take advantage of this knowledge so that we can provide more robust evidence about the value of medical technology to society. Then we'll be able to put the technology on the market sooner and implement it more widely and sustainably in the healthcare system. That's what I want to contribute to as a professor.'
The text continues after the video.
What do you hope to have achieved for patients and healthcare professionals in five years?
'That we use the healthcare budget in such a way that we achieve as many health gains as possible and can distribute the budget in the best way possible – from a very broad social perspective. And that we look at the effects on health, labour productivity, healthcare costs and the use of informal care.
'We all grumble when our health insurance premiums have to go up. We'd also prefer not to spend even more on care because it comes at the expense of investments in education, the climate and defence, for example. The goal is to help as many people as possible with the amount of money we have. In doing so, we can steer towards investing in innovations that yield the most health gains and ensure that patients have faster access to cost-effective medical technology.'
'The secret to good cooperation is a good coordination team, lots of communication, lots of talking about successes and radiating positivity.'
What is your experience of interdisciplinary collaboration?
'Health Technology Assessment is by definition interdisciplinary. I also have experience as a project coordinator in large EU projects on integrated care for people with multiple chronic conditions and personalised precision medicine. Then you have to work with a lot of partners from different disciplines. It is important to get everyone on the same page. I really enjoy doing that. The secret to good collaboration is a good coordination team, lots of communication, lots of talking about successes and radiating positivity. But also just convincing people, holding education sessions and providing practical support when needed.'
Which researcher's work surprises you and why?
'In our work there is constant interaction with other disciplines. We talk to all kinds of specialists to further develop our health-economics models. I also see a lot of innovators working on all kinds of new medical technology. It is incredibly clever what can be done, for example in medical imaging and AI. It's a privilege to be so close to that.'
This article is part of a series in which we highlight the eight new Medical Delta professors. Click here for the other portraits published so far.