Turkish and Syrian students talk to Rector about possible support
A group of Turkish and Syrian students from the university are raising money for victims of the earthquakes in Turkey and Syria. Two of them met Rector Magnificus Hester Bijl on Tuesday 21 February to discuss how the university can support students who have been affected by these events.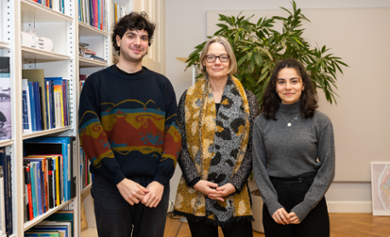 Over the past few weeks the students have raised money in various ways within and outside Leiden University. This included producing posters calling on people to donate to Giro555. They also held a very successful Bake Sale at the Faculty of Social and Behavioural Sciences, which State Secretary Uslu also paid a visit to. But this wasn't easy to organise, Elif Çelem (a psychology student) and Koray Güçlü (a political science student) told Bijl.
Speed
To start off with it was hard, for example, to find out the right person at the university who could help arrange for the information stall and the Bake Sale. And the students also had to organise themselves as a group. 'The first period was kind of devastating. We wanted to do something but didn't know what,' said Çelem. Bijl nodded, 'We realise that as a big organisation we are quite slow. We should be faster in such situations.'
Feeling alone
Çelem and Güçlü said it is really important that the events in Turkey and Syria and their effects on students get the attention they deserve. They both spoke about how they had felt after the disaster. 'My lecturers and fellow students weren't fully aware of the situation,' said Çelem. I expected an email from lecturers asking how I was, so I wouldn't feel so alone.'
Güçlü also emphasised how important it is to help students not just now but in the longer term. 'The situation feels endless. It's good that students can seek help from the student psychologists, but community gatherings are also important. If you're with others, for a split second you don't feel lonely. That's why we're thinking of starting a student organisation for the Turkish and Syrian students at the university.'
Lessons learned
Bijl said she was pleased that the students had contacted her and come to talk to her on behalf of the group of volunteers. And how sorry she was for the students and staff who had been affected by the terrible events. She was also keen to learn from what the students had told her. 'If anything like this ever happens again, we should inform students and staff sooner and quickly ensure that there is a network of contact people at the faculties that students can contact if they want to organise anything.' Bijl also said that she would look at how the university can help the students set up an organisation for Turkish and Syrian students.
Text: Dagmar Aarts
Photos: Monique Shaw