Archaeologist Wouter Verschoof-van der Vaart wins the IALA dissertation award for his doctoral thesis
'I was very happy and honoured that my thesis was recognised as a valuable contribution to the topic of landscape archaeology.'
The recognition
Former PhD candidate and current postdoctoral researcher at the Faculty of Archaeology, Wouter Verschoof-van der Vaart, won the Dissertation Award from the International Association of Landscape Archaeology (IALA) for his PhD thesis under the title 'Learning to look at LiDAR: combining CNN-based object detection and GIS for archaeological prospection in remotely-sensed data'.
'The IALA Best Dissertation prize 2022 was granted by the IALA to three theses that clearly demonstrate the strength and quality that international landscape archaeology reached in 2022,' Wouter explains. 'My thesis was praised for its innovative nature and the fact that it shows 'the enormous potential of this integrated method'.'
However, Wouter was not the only one excited by this news because Dr. Karsten Lambers, his PhD supervisor, shared the same sentiment. 'This is great news and a welcome recognition of his ground-breaking research on the automated archaeological analysis of remote sensing data by the landscape archaeology community,' said Karsten, filled with pride.
Innovative research
In his PhD research, Wouter combined his interest in the practical application of remote sensing techniques, specifically LiDAR, with Citizen Science, Deep Learning, and GIS for the automated detection of multiple classes of archaeological objects in remotely sensed data.
With this award, his peers recognised his research, showing a promising future for using these methods in archaeology. 'Apart from feeling honoured, I am also thrilled that the potential of my research is recognised by the wider landscape archaeology community, as one of the main goals/topics of my thesis was to investigate the applicability of these computer algorithms in archaeological practice/prospection,' Wouter elaborates. 'Because of my background as a field archaeologist, I always tried to keep the practical application of these methods in mind while working on my research, and this award shows that this is recognised.'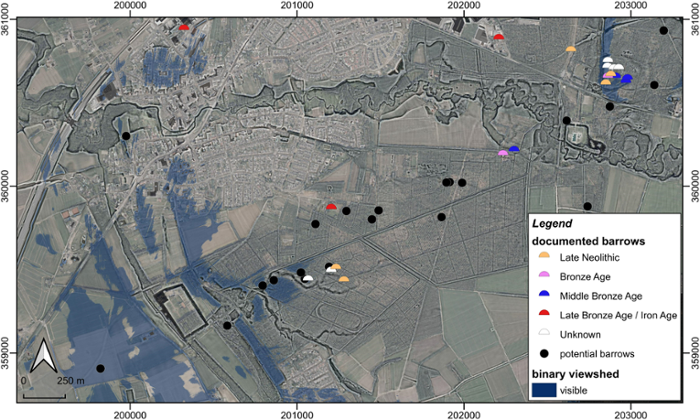 Keeping a clear vision
When asked about what is next for him, Wouter has a clear vision, including many more exciting research projects. 'My plans for the future are to continue my research into the use of automated detection and citizen science for mapping archaeology on a landscape scale.'
'For instance, I am currently finishing another citizen science project where we mapped traces of conflict (bomb craters etc.) in the central part of the Netherlands. Furthermore, I am also working on making an overview of roman military activity in the Ermelo region (north of the Dutch Limes).'