How can we live healthier lives? Universities and hospitals are going to find out
Getting out and exercising rather than slobbing on the sofa, breathing in fresh air instead of cigarette smoke and grabbing healthy snacks instead of junk food. In a new interdisciplinary Medical Delta programme, researchers are going to investigate how to help people live healthier lives. What are the main research questions?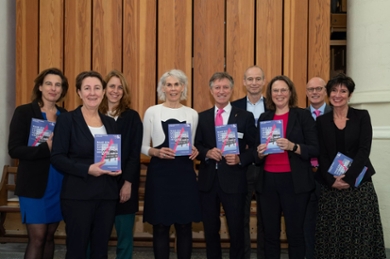 Our society is ageing and so too is the number of people with chronic diseases. At the same time, there are great health disparities between population groups and the healthcare system is under growing pressure. This makes prevention and a healthy lifestyle increasingly important, along with the need for scientifically based research into this. The researchers will investigate what methods promote a healthy lifestyle, which smart technology is suitable for this and how this will reduce the risk of chronic diseases. They will investigate which technological applications such as eHealth programmes and apps have a positive effect on disease prevention and people's health.
Five-year funding
Medical Delta, the partnership of universities, colleges and hospitals in South Holland, is providing five-year funding for this interdisciplinary program Healthy Society in Medical Delta: Lifestyle & Prevention. Alongside Leiden University, LUMC, Health Campus The Hague, Delft University of Technology, Erasmus MC and Erasmus University Rotterdam are taking part.
Impact of debt and smoking family members on health
The programme will start with two research projects. The first aims to achieve sustainable behaviour change in people with cardiovascular disease and their loved ones. For them, lifestyle changes such as stopping smoking, exercising more or changing their diet, greatly determine the course of the disease. The researchers will also look at the role of environmental factors because as long as family members continue to smoke and cook unhealthy food it is difficult to make real changes.
The second project will focus on identifying ways in which our physical environment and socioeconomic status can promote — or worsen – our health. People often suffer from more loneliness, stress and debt in unsafe neighbourhoods where many people are unemployed.
Broader scientific approach to health and prevention
The strength of this programme is the broad interdisciplinary approach to health that includes well-being and living conditions. 'That is why researchers from different disciplines are working together on the programme to develop integrated solutions for a healthier society,' said Professor Frank Willem Jansen, chair of Medical Delta.It will therefore meet the need for more scientific proof of the effectiveness of a broader approach. But also more proof of the impact of technological applications such as smart health apps.'
Maximum health gains
Health psychologist and Medical Delta Professor Andrea Evers from Leiden University is one of the programme's scientific leaders. 'This programme will be the first time we explore a lifestyle approach that focuses on behavioural change in the individual and their environment to find out the best way to integrate them for maximum health gains,' she said. 'This kind of research adds something new to what we are aiming for with our Health Campus The Hague partners. I hope that in five years' time we will be able to help the region's healthcare sector reduce health disparities with tools that are easy to use,' said Professor Mattijs Numans (LUMC), who is also a GP and one of the programme's scientific leaders.
This the 16th Medical Delta is part of a broader approach to research into prevention and health within the Healthy Society Hub. Medical Delta is an interdisciplinary collaboration of more than 360 researchers from Erasmus University, Erasmus MC, Delft University of Technology, LUMC, Leiden University, and four universities of applied sciences in the province of South Holland. They are working together with businesses, healthcare institutions and government on technological solutions for healthcare. Medical Delta is doing so in 16 interdisciplinary programmes as well as in practical field and living labs. This makes Medical Delta the corenerstone of the Health & Technology ecosystem in South Holland and beyond.