Monique Koemans likes a front-row seat to history in the making
She moved from Sydney to London to Washington, but Leiden was there throughout. 'Leiden is a surprising constant in my life,' says alumnus Monique Koemans, who has been working at the Dutch Embassy in the United States for two-and-a-half years.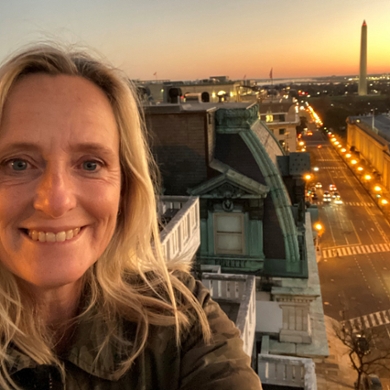 In her current job at the embassy in Washington, Koemans (55) mainly deals with geopolitical developments that affect the Netherlands and the United States. She likes life in the States. 'I travel a lot for my work, meet a lot of interesting people and enjoy living here too. The cooperation between our governments is great. That makes it super-interesting to be here.'
She thinks it's funny that she's now living in the country that was the subject of her first degree in Leiden and – 'another constant in my life' – that she is now in such close proximity to a new Cold War.
History in the making
She arrived in Washington just before the presidential elections in 2020 and witnessed the storming of the Capitol. 'I heard that there were protests and thought I'd go and have a look. So I rented a city bike and cycled that way and arrived just as the huge crowd marched on the Capitol. I cycled alongside and felt the mass become angrier and more aggressive.' She decided to return home. When she arrived a curfew was announced and the full extent of what was happening hit her.
'It was one of those history-in-the-making moments. It happened so fast and so suddenly.' It reminded her of the fall of the Wall during her degree in History and American Studies in Leiden. She was fascinated by geopolitics and the Cold War: 'That a few men determine the fate of the world: inconceivable!' And suddenly the Wall fell. 'I went straight there with a friend from my degree. I had to be there. They were such incredible days. Bizarre what happened there in such a short time. I've always kept the stone that a border guard from East Berlin passed to us through a hole in the wall.'
She also flew to Obama's inauguration. 'It was such a watershed moment, a turning point in history. In hindsight, you can dial down the hyperbole, but that's hindsight for you. At the time, I wanted to be part of it. And experiencing that event with the two million people who had come to witness it was insane. By chance, Obama got out of his car right in front of us, So I got some fantastic photos.'
Hit the mark
Her decision to study history specialising in American Studies couldn't have been better. 'From the very first day that I walked along Doelensteeg I haven't had a moment's regret. There were only one or two courses that I didn't pass in one go. Not because I'm such an amazing student but because I enjoyed it all so much. The degree really did hit the mark.'
After graduating she worked in journalism for a while, at RTL4, Parool newspaper and as editor-in-chief of NieuwsTribune. When her husband took a job at a law firm in Sydney she went along. She did freelance work there and gave birth to a son. After a few years the family moved via Singapore to London, where she became a columnist for Elle and her second son was born.
PhD candidate and thriller writer
When the family ended up back in the Netherlands, she was pregnant with her third and decided to start studying in Leiden again. Pedagogical Sciences with criminology. 'I graduated with distinction and decided to do a PhD. It was supposed to take six years but in the end it took me five. I loved doing it: the contact with students, the teaching... I enjoyed it all.'
But she did miss the creative writing, She solved that by writing thrillers and found a literary agent for her first book: 2013. 'My sons still talk about it: just how high I jumped for joy. The recognition that I'd written something good was apparently important to me.'
A second book, De Top, followed and that did well too. She decided to adopt a more 'commercial' style. 'I've since written a large number of thrillers under a pseudonym,' she laughs. 'My sons sometimes say that I should take the credit because they are successful thrillers but I like to stay out of the limelight. I know that people enjoy my books. That's what it's all about. And it doesn't get in the way of my academic and diplomatic work.' Because in the meantime she had started work at the Ministry of Foreign Affairs. Her knowledge of geopolitics and understanding of crime and terrorism came in very handy.
Another PhD
'And much to my satisfaction I've been back in Washington for two-and-a-half years. I still write two thrillers per year and come to the Netherlands regularly. Then I land at Schiphol early in the morning and go to Leiden, to my sons' student house. I pick up my car there, which they use when I'm not in the Netherlands. Then I ring the doorbell and they appear bleary-eyed at the door and hand me the keys to the car, which I have to muck out first of course.'
She might return to Leiden for good at some point. 'When I retire. To do another PhD, for example. It was such a luxury to spend weeks, sometimes months, pondering complicated problems. I'd like to do that again at some point. And then about the differences between cold wars. That would complete the circle nicely.'
Text: Marijn Kramp