One history, different memories. Does this always lead to conflict?
Different groups can have different memories of the same historical event. This can lead to conflict but does not have to. How is this, and how can countries and people reconcile with the past? Answers to these questions were sought at the second edition of the Owada Chair, which focuses on international law and geopolitics.
At the second edition of the Owada Chair on 21 and 22 March at the University of Tokyo, academics from different countries and disciplines discussed the theme of memory and reconciliation. Atsuko Kawakita (an expert on modern German history) and Akihiko Tanaka (President of the Japan International Cooperation Agency) began this edition with a presentation.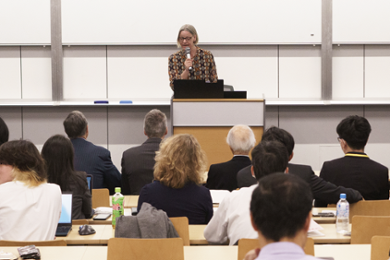 According to Kawakita different perceptions of history should be allowed to coexist. 'For this, each group's view of history has to be acceptable to the other groups.' This will not succeed if people only focus on their own group. After Kawakita had explained the theory on memory and reconciliation, Tanaka focused his presentation on specific events from Japanese history. He explained how Japan dealt with international relations since the Second World War and which treaties it signed with other countries. Three PhD candidates from Leiden University joined in the discussion after the presentations. What struck them?
Fé de Jonge
Grotius Centre for International Legal Studies
Is researching the history of international law
'Atsuko Kawakita's presentation really appealed to me because she asked whether you always need a collective memory or whether it is fine not to agree on your shared history. I think the latter is very true. But you do need some common ground to agree on, as was mentioned in the discussion. Then you can disagree on certain elements of your memories.
'The presentation really made me think of the Lebanon Civil War from 1975 to 1990. That ended with a peace agreement stating that no one had won the war and that the war would no longer be discussed. But how do you live together if there is no clear narrative about a war that you experienced together in a city where the effects of that war are still clear to see? If you look at Lebanon, I think you need a common narrative about historical events.'
The Owada Chair
The Owada Chair is named after Hisashi Owada (1932), a Japanese expert in international law. He was a judge and president of the International Court of Justice in The Hague and Professor of Relations between Europe and Japan at Leiden University, and is now a visiting professor at the University of Tokyo. The Owada Chair focuses on the interaction between international law and geopolitics from an interdisciplinary perspective. Each year, alternately in Leiden and Japan, an expert gives a speech and there are seminars and discussions with selected PhD candidates and students from both universities.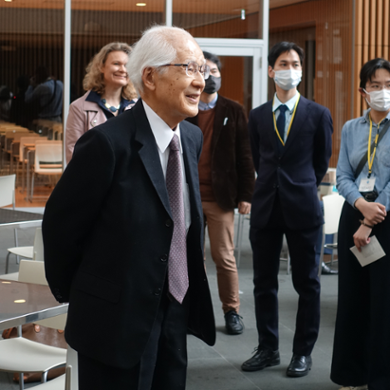 Maha Ali
Institute for History
Is researching the role of Asian countries within the United Nations
'My research focuses on countries including Indonesia and the Philippines. I looked at documents about Japanese reparations to these countries. Akihiko Tanaka also mentioned these reparations in his presentation and spoke about them from the Japanese perspective. The Japanese document he discussed states that the payments were meant to compensate for the devastation of war, for instance repairing buildings.
'I saw in the Philippine documents that the money was also used for education. For me, it is interesting to see the different sides of a treaty and the official narrative of national states. This is also part of the collective memory and you can see how censorship sometimes plays a role. I've seen, for example, how different countries have different perspectives on the issue of South Korean comfort women.'
Jean Yves Ndzana
Institute of Security and Global Affairs
Is researching issues relating to weapons of mass destruction
'I thought the Dutch ambassador to Japan made a good point about the difference between the legal and human sides of reconciliation. Because it clearly shows the gap between the state's perspective and that of society. Thanks to the treaty the Netherlands signed with Japan (in 1956, ed.) and the compensation the Japanese government offered, there is no longer resentment from that perspective towards Japan. But there's still some bitterness among the population. Scars take time to heal and this meeting showed that reconciliation is a very long process. That's why it is so important to impress upon future generations how relevant this process really is.'
Interdisciplinary chair
In Leiden, the Owada Chair is based within the Faculties of Humanities, Social and Behavioural Sciences, Law, and Governance and Global Affairs. The coordinator of the chair is Jan Aart Scholte, Professor of Global Transformations and Governance Challenges. The chair is funded by an endowment by the LUF, Leiden Asia Centre, the Ailion Foundation, Kikkoman Foods Europe B.V. and the Japan Netherlands Academic and Cultural Exchange Foundation.
Text: Dagmar Aarts
Photos: Dagmar Aarts and Aaron Sheppard