Rianne Scheerhoorn: 'I am extremely happy that I joined the Central Government Traineeship Programme'
Rianne Scheerhoorn is a government trainee at the Ministry of Economic Affairs and Climate Policy and the Ministry of Agriculture, Nature and Food Quality. After completing her Bachelor's and Master's degrees in Public Administration, she was sure that the Central Government Traineeship Programme (Rijkstraineesprogramma) was the right choice for her: 'There is a lot of focus on learning and development.'
What is a traineeship in central government?
Rianne: 'You have several variants of the traineeship with the central government and I do the 'Central Government Traineeship Programme'. In that case, you gain experience in different central government organisations and workplaces over two years. I will be working in four different places during my traineeship. That way, I can gain a lot of experience in central government in a relatively short period of time. By working in different places in different roles, you get a good idea of what it's like to work for central government.'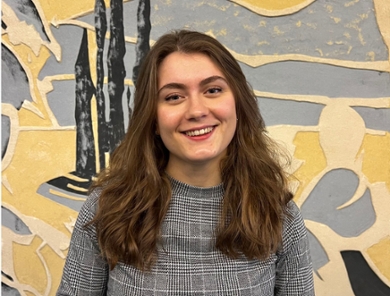 Why did you choose to do the Central Government Traineeship Programme?
'I knew I wanted to work for central government to help tackle the big social issues of our time. However, I still had no idea which position would suit me. A traineeship is therefore the ultimate opportunity to become acquainted with the different parts of central government. I also like the fact that in a traineeship, and thus also in the Central Government Traineeship Programme, there is a lot of attention for personal development. As a central government trainee, you still do a training programme and workshops with other central government trainees. This has already allowed me to further develop myself in many areas.'
What is the application process for central government like?
'You start by creating an online file and beginning your application process. That can be done from 7 April this year. Then you provide your educational information and experience, but above all your motivation and motives. In the next round of the application process, you are matched with a ministry. You then go to that ministry on an 'verRijkingsdag' for an interview and to complete an assignment. In my case, it was a writing assignment. The interview was about my motivations, who I am, what I already know about myself, which qualities I can put to use, but also where I want to go and what qualities I want to develop (further).'
'Two psychological tests are also conducted, giving you insight into your talents and skills. The central government mainly looks at your talents and what makes you unique. The application process was a bit different from what I was used to, but I actually enjoyed it.'
Which places have you been matched with for the traineeship?
'I was recently at the ICT service provider of the Ministry of Economic Affairs and Climate Policy and the Ministry of Agriculture, Nature and Food Quality. I am currently on secondment and in Stockholm, at the Innovation Attaché Network. I'm going to work here for six months and focus on the energy transition and, in particular, hydrogen.'
Did you know which department of the ministry you would be working in?
'Not at the beginning. You are matched with the first spot that becomes available. When I was able to indicate preferences, I said,'Surprise me'. I then joined the ICT service provider, which has been suprisingly positive! During the traineeship, you then search for your next workplace(s) on your own, although your trainee coordinator can help you think about it. The idea behind that is that you try different roles and positions, so you know what's possible and what suits you.'
Are you glad you participated in the Central Government Traineeship Programme?
'I am very happy that I participated in the Central Government Traineeship Programme, mostly because it's a great opportunity to work on major social issues. In addition, I appreciate the focus on learning and development in the Central Government Traineeship Programme. I am so happy with the opportunities I get as a central government trainee and hope this will also make more students excited to do the Central Government Traineeship Programme.'
Text: Abdelkarim Megaiz