Entrepreneurship at the university for an impact on society
Courses, business premises for startups or help applying for patents: there are many ways the university can help students or researchers with their businesses. As President of the Board, I think it is important that this space for entrepreneurship is visible because it is one of the ways we can have an impact on society.
In this column Annetje Ottow, Hester Bijl and Martijn Ridderbos give a peek behind the scenes at the Leiden University Executive Board. What does their work entail? What are they enthusiastic about? What challenges do they face? Building a healthy and engaged learning community begins with sharing what you are up to. This time it's Annetje Ottow's turn.
Everyone knows the Leiden Bio Science Park, which is home to over 150 Life Sciences & Health businesses. But the university does much more than that alone. Luris, for example, helps people apply for patents and advises on partnerships and contracts, and together with other parties, we invest in businesses via our own Libertatis Ergo Holding (LEH). These businesses often want to make a scientific find commercially appealing and of interest to society. LEH currently has 39 businesses in its portfolio that together are responsible for around 300 jobs.
But entrepreneurship at the university begins with the students and researchers who take the plunge and start a business. For them we also have our incubator PLNT, the joint initiative of the university, University of Applied Sciences Leiden, MBO Rijnland and the municipality. PLNT offers courses for starters and helps startups find business premises. Over 2,000 people took part in a PLNT programme last year and startups secured over 3m in investments. That is a tremendous achievement.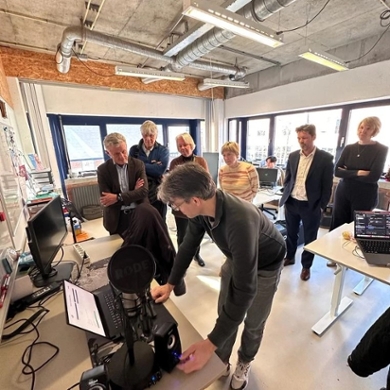 Speech amplifier
As Chair of the PLNT Supervisory Board, I recently had the honour of meeting a number of innovative startups. Joris Castermans' company Whispp is developing a speech amplifier. This enables people who have difficulty communicating because they stutter, for instance, or have had an operation on their vocal cords to participate in conversations once again. It is an example of an innovation that, with the help of PLNT and others, can have a significant impact on society.
As the Executive Board we think it is important to support a range of businesses. Alongside the life sciences, entrepreneurs from the humanities and social and behavioural sciences can receive this support. And not just in Leiden because PLNT The Hague was recently launched, with a special international student entrepreneurs association.
'I'm proud of our staff who help entrepreneurs chase their dreams.'
I have deep respect for the people who throw themselves into entrepreneurship. They put their heart and soul into their idea and do all they can to make their business a success. I see this with my son, who has started his own music company. But I'm just as proud of our staff who help these entrepreneurs chase their dreams. It is fantastic to see how driven the Luris, LEH and PLNT staff really are.