Donation of personal archive and collection of Leiden Sinologist Robert van Gulik
The family of the famous diplomat, sinologist and writer Robert van Gulik has donated his personal archive and part of his collection to Leiden University Libraries (UBL). The collection and archive provide insight into the life and work of Robert van Gulik, who became known to the general public for his Judge Dee novels. In addition, the family has set up the 'Robert van Gulik Fund for the sinological collections of the Leiden University Libraries', placed with the Leiden University Fund, to stimulate research into the life and work of Robert van Gulik.
Robert van Gulik
Robert van Gulik (1910-1967) studied Sanskrit, Chinese and Japanese at Leiden University and Utrecht University. His diplomatic career began in 1935, during which time Van Gulik held various posts, including in China, Japan, Korea and India. Van Gulik was fascinated by the tradition of the broad Chinese scholar. Throughout his life he tried to practice this tradition by performing seal carving, calligraphy and poetry, playing the classical Chinese musical instrument Qin, and collecting works of art, books, music and other objects. Robert van Gulik's publications are diverse and versatile and his pioneering works have influenced the study of China.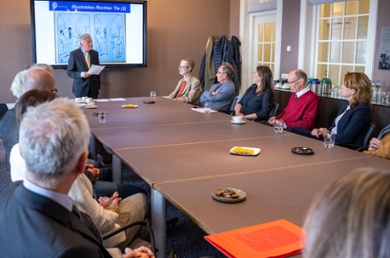 Judge Dee novels
The name of Robert van Gulik is inextricably linked to the popular series of detective stories about the historical figure of Judge Dee. Van Gulik's fascination started with the book he published in 1949: Dee Goong An, his translation of part of a Chinese detective novel about the judge during the Tang Dynasty (618-907). He himself provided the illustrations and the cover design of the book, which saw the light in Tokyo. Van Gulik got a taste for it and decided to breathe new life into the character of Judge Dee. In the 1950s and 1960s he published a whole series of new stories about Judge Dee, set in his beloved era of the Ming Dynasty (1368-1644). The stories enjoyed great popularity worldwide and are still being reprinted.
Archive and collection
In his short life, Robert van Gulik managed to build a phenomenal collection on Chinese history, language and culture, with a special focus on music and folk literature. He was an avid collector of manuscripts and books, reflecting his broad interests.

The Van Gulik archive is an addition to his private collection of books, which was added to the collections of the UBL some 50 years ago. The archive is very diverse and includes correspondence, diaries (1935-1967), unpublished articles, his autobiography, Judge Dee illustrations, manuscripts and translations in several languages, the proof of The Gibbon in China, calligraphies, paintings, etc. Many of these items illustrate his extensive social network, such as the calligraphy scrolls by Ahn Jongwong (1874-1951) and Jeong Inbo (1893-1950) with dedications to Van Gulik, a painting by Feng Yuxiang (1882-1948), and a scroll with signatures from guests at his marriage.
Correspondence between Van Gulik (left) and Liang Sicheng (1901-1972) (right). Son of Liang Qichao (1873-1929), Liang Sicheng was an architect

Caligraphy by Jeong Inbo (1893-1950) with commission to Van Gulik

Studies for Judge Dee illustrations

Judge Dee illustrations by Van Gulik, with his signature
Robert van Gulik Fund
Concurrently with the donation to the UBL, the family set up a fund at the Leiden University Fund. The 'Robert van Gulik Fund for the sinological collections of Leiden University Libraries' is intended to stimulate research into the life and work of Robert van Gulik and publications about it, including through fellowships. In addition, targeted purchases can be made with the fund and activities related to the collections can be supported. Sinologists, writers, diplomats and others who support the work of Robert van Gulik are expressly invited to contribute to the fund. This will make the collection better accessible for education and research, giving this remarkable academic the attention he deserves.