Interdisciplinary research: brainstorming and bridge-building
Bring over a hundred driven researchers together in one room and the good ideas will start to flow: that was the thinking behind the internal networking meeting on interdisciplinary collaboration on Wednesday 17 May. Representatives from the nine interdisciplinary programmes were waiting at their stalls to answer questions and make new matches.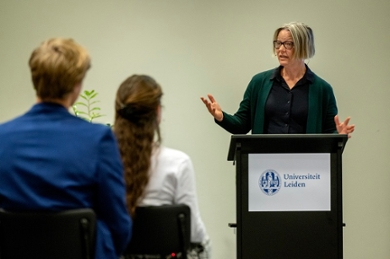 There's a fantastic snowball effect to be seen with the interdisciplinary collaboration in Leiden, said Rector Magnificus Hester Bijl. Since the university launched nine interdisciplinary research programmes in 2020, more and more faculties have been seeking collaboration. 'And we hope to forge even more valuable connections within and among the disciplines.'
At the same time, she made no bones about it: it's not always easy to get interdisciplinary collaboration started. 'Because disciplines are social constructions with their own values', said Bijl, who knows this from experience as a professor of numerical mathematics. She recalled a collaborative project in her own career where ten researchers once spent a whole day trying to agree on one term. 'Interdisciplinary collaboration means you have to learn each other's language.'
Recognition and rewards
Keynote speaker Lotte Krabbenborg, Associate Professor at Radboud University, agreed. As a member of The Young Academy, she researches academics' experiences of setting up and carrying out transdisciplinary projects that involve stakeholders from society.
The initial results of the study show that academics would like more recognition and rewards for their transdisciplinary work – which at present is often done in their own time. Forming new transdisciplinary research teams is quite challenging, so there is also a need for leadership or project management training. And they would like to have physical spaces where they can meet academics from different disciplines, not necessarily to talk about work. 'In other words, spaces where you can work, play and eat together', says Krabbenborg.
More meetings
After the keynote Bijl and Krabbenborg took part in a panel discussion together with Professor of Environmental Sustainability Jan Willem Erisman. He is the coordinator of the Liveable Planet interdisciplinary programme because, as he himself puts it: 'If we want to resolve the nitrogen crisis, we won't be able to do so without interdisciplinary research.'
Erisman would like the university's organisational structure to be better geared towards interdisciplinarity. 'Faculties have their own administrative systems, which create a lot of barriers. It would definitely help to have more physical spaces. And you simply need more funding if you want to move interdisciplinary collaboration forward.'
Bijl acknowledged that organisational change is often hard and can take time. 'But I'm up for the challenge.' She sees creating more physical meetings as a possibility for the short term. 'We certainly want to make resources available this year for small-scale interdisciplinary collaborations so that colleagues can organize seminars or other meetings.'
Ask questions, have fun
Did the panel have any tips for future interdisciplinary researchers? 'Accept that you won't immediately understand what the other person does', said Krabbenborg. 'I'm currently working with colleagues from astronomy and I ask questions all day long. But that provides loads of valuable new knowledge. Another thing: always share your ideas with your team leader or supervisor. They can only acknowledge your work if they know about it.' Erisman ended by advising everyone to enjoy themselves. 'Because interdisciplinary research is great fun!'
Text: Evelien Flink
Photos: Marc de Haan
What did colleagues think of the networking meeting?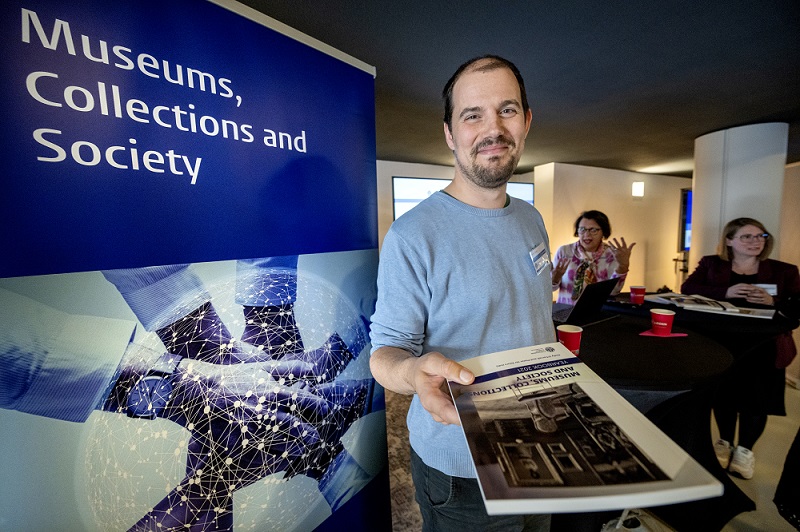 Martin Berger, assistant professor

'I'm on the Museums, Collections and Society programme and am hoping to get to know more colleagues who are interested in museums. And I want to work with AI in my own research, so am definitely stopping by the SAILS stall later. It's quite hard to break down the boundaries between faculties at the university. There are plenty of good ideas about interdisciplinary research but they often get bogged down in the practicalities. I'd like to do more with interdisciplinary teaching but I have to have the time and space for that. My tip for colleagues: use the online prospectus. I searched for the word "museum" there. That's how I know that we have 22 courses with that word in the title and which colleagues teach those courses.'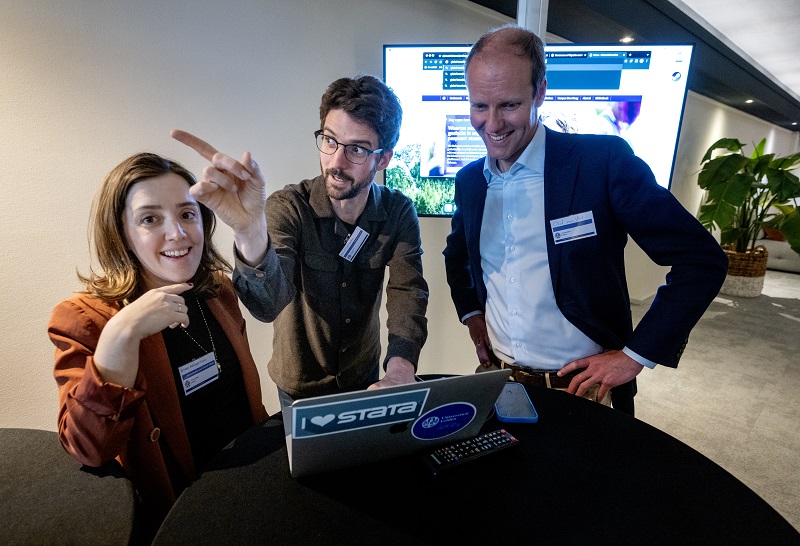 Zeynep Balcioglu Tasma (left, postdoc) and Eduard Suari Andreu (center, assistant professor), from the Social Citizenship and Migration programme
Zeynep: 'Our interdisciplinary programmes provide the building blocks that will help researchers build bridges later on. I'm here today as a member of the interdisciplinary programme and as an aspiring interdisciplinary researcher. It's fun to talk to lots of different people and to try to make connections. Our programme gives researchers a lot of freedom: they can study migration from any angle and with any method. That's quite a luxury in the research world.'
Eduard: 'As an issue, migration lends itself well to interdisciplinarity. We work with colleagues from fields such as history, anthropology, political science, law and economics. The first time you talk you hardly understand each other because everyone uses different methods and terminology. So you really have to get to know each other and that takes time, sometimes years. That's what makes the continuity of these programmes so important: progress is being made even if you don't see it right away.'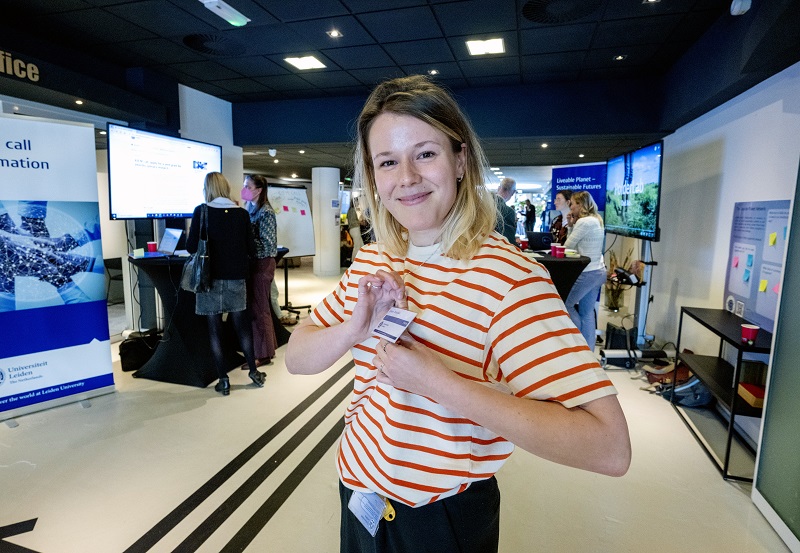 Lisann Brincker, educational consultant

'I'm one of the main developers of an online platform where students can train skills for during and after their studies. We've already got training modules on presenting, writing and collaborating but want to increase our offering for students who are doing an interdisciplinary programme or want to prepare for interdisciplinary work. I've heard a lot today about the value of clear communication. For instance, about how to explain the main terms and concepts from your own discipline to the people you're working with. That's a skill we can do something with on our platform so I'm pleased I was here today!'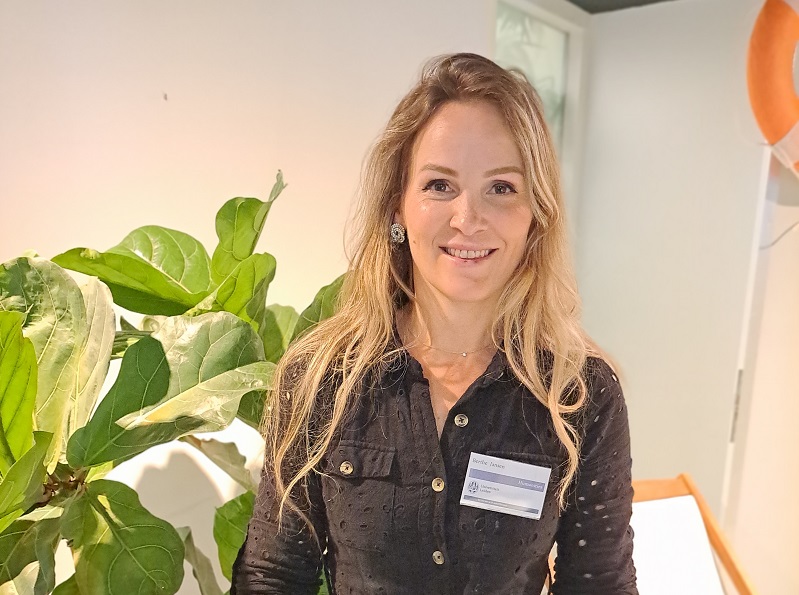 Berthe Jansen, assistant professor

'I'm here today because I'm at the start of an interdisciplinary project. My ERC Starting Grant begins in August and I'll be stepping out of my comfort zone. As a historian, I often focus on textual and ethnographic research but I'm now taking a step in the direction of museum studies and the digital humanities. Luckily, I was able to make a lot of connections today. It's nice to be able to do so in an organic way instead of by mail. This confirms once again that physical meetings are irreplaceable. So I really do hope that the Board will set to work on those physical spaces and specifically ones with good coffee and lighting.'
Representatives from the interdisciplinary programmes were there to answer questions

Panel discussion with moderator Maud Alberts, Jan Willem Erisman, Hester Bijl and Lotte Krabbenborg

Networking market with representatives from the interdisciplinary programmes