'I want to connect young people and the European Parliament'
Olivier Morskate studied Public Administration at Leiden University. During his minor, he discovered his passion for Europe and he decided to do an internship at the European Parliament's Liaison Office in the Netherlands: 'During the bachelor, you learn to weigh everything against each other and that also comes in handy during the internship.'
What was your reason for doing an internship at the European Parliament?
Olivier: 'I always found national borders interesting because I come from a border region myself . I enjoyed learning more about this during my minor, especially about the influence the European Union has on the Netherlands, because after all, every border is different. When I finished my studies, I wanted to get more practical experience. I'm currently doing that as a Schuman Trainee at the Liaison Office of the European Parliament in The Hague.'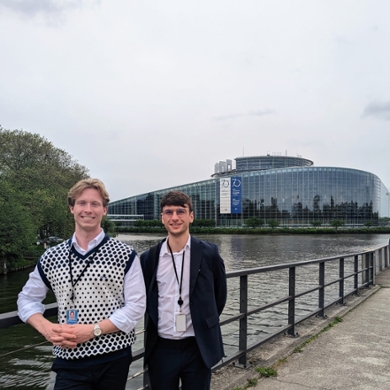 What are your tasks as a Schuman Trainee?
'I deal with education and public relations. I organise various activities and events and report any feedback from those sessions back to the communications department. I also help with the European Parliament's education programme, aiming to make young people more aware of what is going on in Europe.'
Does this mean you also have a passion for education?
'Yes, before this I worked a volunteer at the National Youth Council, where I regularly went to schools to give guest lectures on Europe. I'd travel to schools all over the country to talk about what the European Union is, how it works, but also to engage in discussions with the students. What do they think about Europe? What do they think could be done better? We then fed that back to national and international policymakers, to make sure that young people are heard. I always really enjoyed that.'
Did you have a chance to discover which tasks you like best during your internship?
'Yes, that's how I found out that I'm really interested in integrity during my previous internship at Berenschot. Such topics always seem very abstract, but when you actually get to work on it, it suddenly becomes very tangible. I also found out that I enjoy being involved in matters of social significance and getting people interested in politics and in how policy is created.'
What did you learn during your studies in public administration that you were able to use during your internship?
'I think mainly the political-administrative aspects. For instance, I learned to weigh everything against each other during my bachelor, and that also comes in handy during the internship. You have to really understand who you're working for, and by that, I mean that you should take on a supporting role. It's not your own opinion that matters, but that you listen to the interests of those involved and that was also something I learned during the bachelor in in Public Administration.'
What was the highlight of your internship?
'The visit of the President of the European Parliament, Roberta Metsola, to Leiden University. She visited the university and I got to help prepare for it and make sure everything went smoothly. That was really a highlight, because she is the highest-ranking visitor you can get from the European Parliament. Young people were able to discuss European issues during the visit. I was really pleased with how engaged the students were when it comes to Europe. I want to create a connection between young people and the European Parliament and my internship provides me with that opportunity.'

Do you have any tips for students who also want to do an internship at the European Parliament?
'That you should make the most of your time as a student. Be active outside your studies, work as a volunteer and make sure you can really relate to other people. You need to understand why someone thinks in a certain way, so you know why you do the work that you do and to gain a broader perspective. During your internship, it's important that, above all, you stay true to yourself, be genuine and do what interests you. Try to make the most of it and create opportunities that will enable you to grow as a person.'
Text: Abdelkarim Megaiz