From flag to gift: upcycling project in The Hague South-West
Inspired by a gift she received at a conference abroad, Laura Kamsma, coordinator of the FGGA International Office, went looking for new promotional goodies to hand out to the representatives of international exchange programmes at Leiden University - Campus The Hague. The gifts had to meet three requirements: locally produced, lightweight and, above all, sustainable.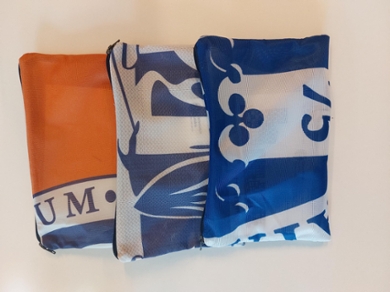 Through the extensive The Hague network of Mandy Koenraads, coordinator of the Thesis Workshop The Hague South-West, Laura came into contact with LDE alumnus and creative mastermind Ruşen Koç. He is an independent researcher, entrepreneur, co-founder of the Creative Muslim Club, and has his own clothing line. He also acts as a unifying factor in the neighbourhood, is on good terms with both young and old and the door of his business is always open to anyone who needs it. For example, young people do homework in his shop, he works with some elderly people in a little garden.
Ruşen: 'As a researcher, I deal with issues around trust in government and around migration. As an entrepreneur, I work with a group of talented creatives to improve the narrative around Islam in the West. We do this by collaborating with museums and other media outlets For example, by hosting exhibitions or events, for which we sell tickets, merchandise and more.'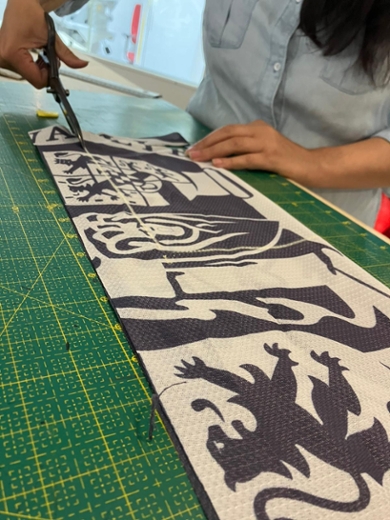 Sourcing used fabrics
A brainstorming session with the three led to the idea of sourcing used fabrics. If there is anything Leiden University has a lot of, it is banners and flags. A hefty pile of material was collected with the help of the USC, the Graphic Centre Leiden, and, in particular, thanks to Service Manager Henk Ellert's efforts searching the basements of the various Campus The Hague buildings. This was the start of the upcycling project 'from flag to gift'. Giving these used or obsolete flags and banners a second life seemed like a great idea, but how?
Pencil cases: two birds with one stone
In the end, pencil cases were the obvious choice. Pencil cases are lightweight, useful during conferences for collecting business cards, pens, USB sticks and other small items, but they also look great in your work bag for long-term use. Original and durable, two birds with one stone. Ruşen then sketched a design, made a few prototypes with three tailors from the neighbourhood and continued to work on the assignment. Through this collaboration, Ruşen is able to commission local residents with a distance to the labour market. He offers them work and guidance through the Sewing Workshop.
Ruşen: 'I think it's important to point out that this type of small jobs can make a big difference in presence in the lives of fellow city-dwellers. Especially of fellow townspeople who don't come into contact with the university so often. So, I really hope we'll be able to do things like this together more often.'
Laura: 'Initiatives like the Thesis Workshop The Hague South-West contribute to the connection between Leiden University and the city of The Hague. A number of people from the neighbourhood were able to participate on this project because of this collaboration, and I have a locally produced, unique gift in my hands. In addition, with this upcycling project, we're combating waste by giving the flags and banners a second life. We still have plenty of material left and are brainstorming with Ruşen about new designs, such as sustainable sandwich bags or baby carriers. There are so many moments when we give out gifts as a university, think of graduation ceremonies, open days, or other promotional activities.'
The cases were received with enthusiasm by the other faculties and were presented to international representatives of partner universities during the Leiden University EAIE Partner Day on 25 September.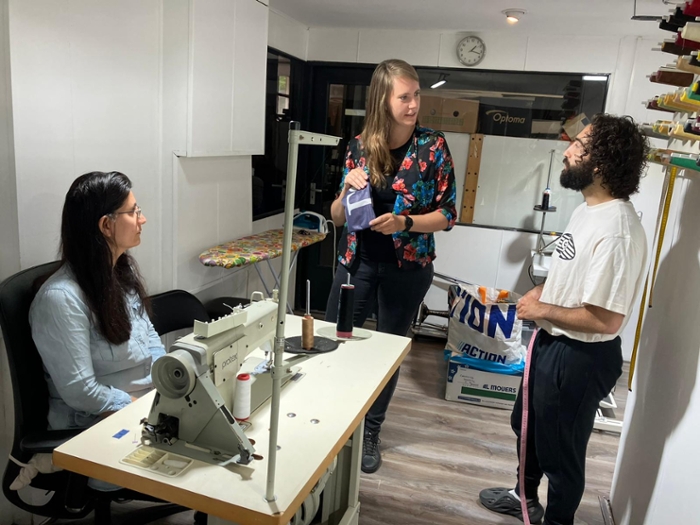 Would you like to know more about the Thesis Workshop The Hague South-West? Please check out our website (in Dutch) or contact us at m.schalk@fgga.leidenuniv.nl. Do you have a sustainable idea or are you interested in setting up a similar project with the help of a local Hague entrepreneur? Feel free to contact Laura Kamsma at l.c.a.kamsma@fgga.leidenuniv.nl for a referral.