Jasper's day
Jasper Knoester is the dean of the Faculty of Science. How is he doing, what exactly does he do and what does his day look like? In each newsletter, Jasper gives an insight into his life.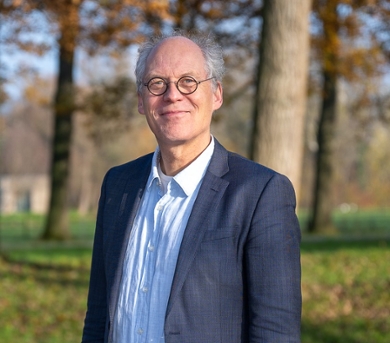 Monday, 11 September
'I arrive at the office around a quarter past eight. It promises to be an interesting and varied day. At half past eight, I open the online consultation meeting of the Board and Supervisory Committee of NeCEN, the national facility for cryogenic electron microscopy embedded in our faculty. The stormy developments in this technique over the past decade have made this an indispensable facility in the structural analysis of biological and soft materials. We are looking at how to keep it up-to-date in consultation with national partners. This will require a major investment in the coming years, a tough mission that must not fail and I am happy to put my shoulders to the wheel with colleagues. We discuss the state of the art in the various consultations and determine actions for the coming weeks.
Following this, there is another online consultation, with a large number of participants. The topic is the establishment of the national Council for Earth and Environmental Sciences (AMW). Disciplinary councils are the national links between universities at the discipline level. Now that the AMW sector plans have been granted, there is a need to set up a council for this discipline too, and today's meeting aims to initiate this process. It is a constructive discussion in which good progress is being made.
Afterwards, I spend until mid-afternoon on personnel matters, after which I go over the agenda for the coming weeks with Carey. I then study proposals for an honorary doctorate. During the university's upcoming dies natalis, an honorary doctorate is awarded, just like every year. This year, our faculty has the honour of nominating the candidate to rector and deans. There are a number of interesting proposals from the institutes, but some more study is needed to reach a decision, for which I have two more days.
The afternoon ends with the Faculty Board meeting the new Faculty Council. Many new members this year. Besides the usual big change within the student section, there are also many new staff members on the council this year. With the administrative transition we have initiated and the implementation of the new strategy, it promises to be an interesting year, with of course an important role for the council.
At home, I have a quick dinner with the family, after which I go to Diligentia in The Hague, comfortably close to home. Tonight, there is a festive meeting here of the Royal Society of Physics 'Diligentia', which is celebrating its 46th anniversary. It will be a wonderful evening in which science and music, performed by Practicum Musicae, go hand in hand. Jan van Ruitenbeek of the LION, incoming president of the Society, beautifully talks together the programme. First there is a presentation on music as medicine, illustrated with live music by the orchestra. Then we enjoy the premiere of four pieces of music composed by Florian van der Reijden, inspired by recent scientific developments. Florian himself explains his composition and our own Julia Cramer provides excellent explanations of the scientific context. After this wonderful programme, there is a reception where I speak to many acquaintances from Leiden. I cycle home happy, despite the rain that has started in the meantime. How nice that there is this wonderful connection to science so close to home. Back home, I report on what I saw and heard tonight. Fortunately, I had already prepared Tuesday's meetings over the weekend, so I can go to bed at a reasonable time. Tomorrow will be another great day, but I am sure it will not be as varied as today.'