Join a study association: 'It expands your worldview'
A discount on textbooks is always welcome. But for these students joining a study association has meant much more than that alone.
'It enriches your student experience', says Robin Buijs, the brand-new president of the Study Associations Consultation Platform (StOP). StOP is the consultation body for all study associations related to degree programmes at Leiden University and University of Applied Sciences Leiden. As president, Buijs can see what membership of a study association can mean for students. 'A springboard for your career, a big friendship group: it can be whatever you want it to be.'
'A real need for a community'
Student Redmar had enough on his plate with a double bachelor's degree and membership of Njord, but an African Studies association? There really had to be one. So last March, he and two of his fellow students set up L.S.A. Mugusa. 'There was a real need for a community. A place where you can learn from each other.'
Because Redmar likes learning from others. 'We get certain conflicts explained to us in class. But through the association, I'll know someone who comes from that region, for example. They then tell stories about parents or great-grandparents who experienced the situation for themselves. I really like that bit of context. It expands your worldview.'
Redmar's efforts for L.S.A. Mugusa have a clear goal. 'Africa is a gigantic continent that is going to be incredibly important. I want it to be given more attention.'
Knowledge at the forefront
All university students in the Netherlands are welcome at L.S.A. Mugusa, the Africa Studies association. There's just one condition: that they are interested in Africa. Sharing knowledge is at the forefront of this association.
The monthly African Film Night is really popular. And the first edition of the Current African Affairs newsletter has winged its way to members. It contains under-reported news from African sources and op-eds, personal stories and scientific findings sent in by members.
'Bounce ideas off each other'
At CIROS, International Relations and Organisations (IRO) student Emma discovered what real teamwork is. 'I now have skills that I can take to a professional workplace. I think that's really valuable.'
As the head of the Regional Committee, she organises activities that highlight the diverse cultural backgrounds of IRO students. 'We can share experiences and get to know each other's traditions.' Emma, who is Japanese American, looks back in satisfaction at her favourite event, Mixology. 'You learn to mix cocktails or mocktails with liqueurs from different regions.'
The best thing about her committee? 'Being friends with your team. We value and bounce ideas off each other. This really makes organising events really smooth.'
International community
Anyone studying International Relations and Organisations can join SPIL: the study association for political scientists. But on Campus The Hague there was a wish for something else: for a community especially for international students.
At CIROS internationals identify with each other's experiences: living in a country where everything is new to you, far away from your family, but more than anything enjoying the unique adventure that studying abroad is.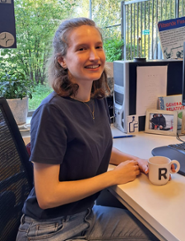 'I was quite shy to begin with'
Switching from secondary school to university can be daunting, and that's how it was for Renske. But this computer science student soon found her place at De Leidsche Flesch. 'I was quite shy to begin with but I now get so much energy from the people around me.'
Renske has now been a proud 'Flesscher' for two years and is active in the Deep-Fat Frying, ICT, Cooking and Graphics guilds. The next challenge? Becoming chair. A role that suits Renske, with her boundless enthusiasm for the association, down to the ground. 'I really enjoy the groups of friends I've made. And all the food I've cooked and ICT I've tinkered with. It's such fun here. I want to share it with others.'
Warm welcome
A friendly corner of science is how the Leidsche Flesch study association would describe itself. It is home to five degree programmes: Physics, Math, Astronomy, Computer Science, Artificial intelligence and Computer Science. The many active members think a warm welcome is really important. So if you're new, a member will strike up a conversation with you within no time. All very friendly, therefore. Except, that is, when it comes to the daily NRC Handelsblad word-puzzle battle. Then it's every member for themselves.
The StOP website has an overview of all study associations that are linked to the university and the University of Applied Sciences Leiden. Students can mail any questions to info@stopleiden.nl. So what's stopping you, says StOP president Buijs. 'Membership is the price of three drinks. You've got nothing to lose and everything to gain. In terms of your network, fun and much more.'
Text: Elena Nguyen
Main photo: Emma (second from right) at a CIROS study association activity