Martin Sievert awarded 'Best Young Researcher Paper Award 2023'
Martin Sievert, Assistant Professor Public Management at the Institute of Public Administration has been awarded the 'Best Young Researcher Paper Award 2023' of the Permanent Study Group Public Personnel Policies.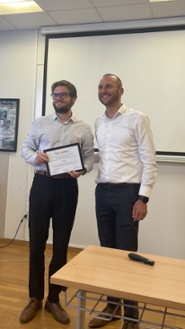 Martin received the award for the paper 'The Relevance of Gendered Language in Public Sector Job Advertisements for Recruiting Processes and Outcomes,' at the annual conference of the European Group for Public Administration. His paper was written in collaboration with Dominik Vogel (University of Hamburg) and Matthias Döring (University of Southern Denmark). The award includes an invitation for a research stay at Aarhus University or Utrecht University.