Zelensky addresses students: 'Live your own life, but do so together with others'
A standing ovation. A wave and a smile from the president. A final selfie. Ukrainian President Volodymyr Zelensky addressed students in the Netherlands for the first time on Tuesday morning 12 September via a livestream in The Hague. He did so in front of two packed lecture halls at both Leiden University and The Hague University of Applied Sciences. Several hundred interested persons took part via the livestream. His message: 'Look outside your bubble to see what's happening in the world.'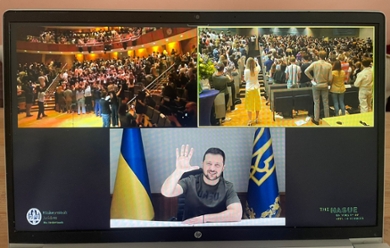 It is a little after eleven when a wave of excitement - and applause - sweeps through both lecture halls. They have just been able to establish a live video link to Ukrainian President Zelensky's office. Whether that link would actually become a reality remained uncertain until the very end, since the meeting had already been rescheduled several times behind the scenes.
Your words are a message of hope for us all
After an opening speech by Professor emeritus Jaap de Hoop Scheffer, Rector Magnificus Hester Bijl addressed Zelensky with a word of welcome. She stated that it was an honour to welcome the President via video link. 'Freedom is what unites us. Your words are a message of hope for all of us. You are speaking here today to our students, young people studying in The Hague. The city of Peace and Justice. Peace and Security are directly linked to our research and teaching. Our students can take courses such as War Studies, Security Studies and International Relations, and Public International Law. Not only for these students, but for other students too, this opportunity to meet you is most relevant and worthwhile. Because war and freedom affect us all.'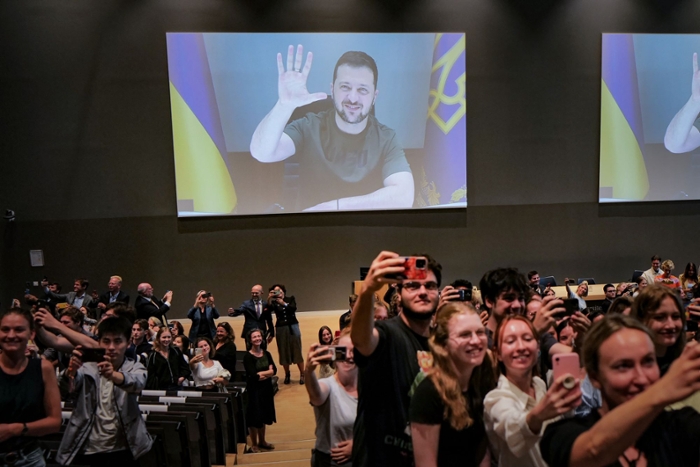 Seek each other out and work together but make your own choices
In his speech, Zelensky focused on the students and urged them to look outside their own bubble. He gave Russia trying to normalise genocide as an example. If, inside your own bubble you are told, day in and day out, that this is normal and the right thing, you will no longer be able make your own judgements about right and wrong, according to the President. 'Form your own opinions, make your own choices, but do so together with others.'

Try to seek each other out and work together, he said, referring to the fact that his country is also seeking new partnerships. He called the Netherlands a good ally and expressed his gratitude. After answering questions from several students - from both lecture halls - about the ongoing war, it was already time to disconnect. But not before the students were given an opportunity to take a selfie with the Ukrainian leader while Zelensky watches from behind his desk smiling and then says goodbye with a wave.
'I had tears in my eyes. Not just because I was able to see him, but also because of all those people here in the hall who were interested to hear what he had to say. The support I felt from everyone, that also moved me.'
Emotional moment
For Ukrainian student Yana (MPA, Master Public Administration), seeing her president on the screen in Wijnhaven was very emotional. 'I had tears in my eyes. Not just because I was able to see him, but also because of all those people here in the hall who were interested to hear what he had to say. The support I felt from everyone, that also moved me,' says Yana, who is also an intern at the Ukrainian embassy. She felt that support throughout the meeting. 'I agreed with every speaker. Very special.'

The meeting was not only special for the students. Erwin Muller, Dean of the Faculty of Governance and Global Affairs had 'chills'. 'I'm so happy that we were able to do this together with The Hague University of Applied Sciences. For students, I think this is a 'once in a lifetime experience'. I was especially pleased that he spoke directly to the young people and gave them tips on how go about their lives. This was a very special morning.'