Leiden Research Support Network
The Leiden Research Support Network is the university's research support network that assists Leiden researchers in all aspects of research.
The Leiden Research Support Network is the network for research support professionals within Leiden University. The communities make it easier for research support professionals to find their peers, exchange expertise and work together efficiently to provide quick answers to researchers' sometimes complex questions. There are currently five active communities, each of which has a community manager who facilitates the group and promotes knowledge exchange. The network is still growing and new communities are being formed.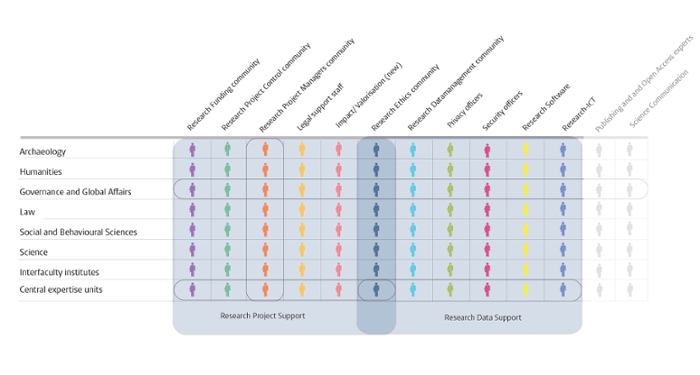 Vertical: communities of research support professionals working within a domain.
Horizontal: multidisciplinary collaboration of research support professionals.
As a research support professional, you are a member of the Leiden Research Support Network and possibly one or more communities. You're probably curious to know what this means for you, and you will shortly receive more information from the community manager(s) of your domain(s). Are you interested and haven't yet received any information yet? Please register using the button below and take a look at the brochure with useful information about the network and the advantages for you as a member.