Collaboration
Receiving an individual grant is highly appreciated in the academic world, because of the tough peer-reviewed competition.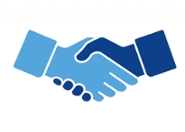 Leiden University wants its research and teaching to have a positive impact on society. In their efforts to achieve this, many of our researchers collaborate with university and societal partners, the business sector and the general public.
Participating in collaborative projects can accelerate your research and is described by most researchers as an enriching and positive experience. On the other hand, having partners requires constant communication and serious project management. Inform our staff members at the Research Desk and discuss the possibilities on joining a consortium: collaboration agreements and data sharing agreements are usually involved.
Also find more information on this subject on Luris' website 'Prepare for a collaborative grant'.