MRI scanner
The Leiden Institute for Brain and Cognition (LIBC) hosts an MRI scanner dedicated to research. FSW researchers are welcome to use this scanner. The 3.0 tesla Philips achieva scanner is situated at the ground floor of the Leiden University Medical Center, department of Radiology.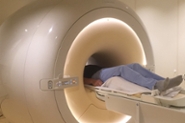 MRI is ideally suited for real-time monitoring of ongoing brain activity. The LIBC MRI scanner is equipped with all necessary facilities to perform MRI studies suited to answer a broad range of cognitive neuroscientific research questions. For example, you can use the MRI compatible headphones for auditory stimulation and the BOLD screen to present high quality visual stimuli inside the scanner. Button response boxes can be used to record manual responses during scanning.
More facilities
Close to the MRI scanner two interview rooms are available for pre- and post-testing of your participants. Collected MRI data can be uploaded to the advanced computational infrastructure for neuroimaging analyses. The LUMC also hosts a special dummy scanner. This scanner is mainly used to familiarize children with the research setting.
Training
The LIBC support team can provide expertise in all phases of your project. You will be extensively trained for safe and independent use of the LIBC MRI research equipment.