Hybrid and online education
Here you will find information about hybrid and online education, and about the support SOLO offers.
In the current situation it's possible that some of your students may not be able to attend the workgroup or lecture on campus. To set up a hybrid class (with students participating online and on campus) you will need webcam equipment and one of the video tools of Leiden University.
Webcam equipment has been pre-installed in all teaching rooms in the Pieter de la Courtbuilding. For the other rooms within the PdlC, webcam cases are available to borrow from the Service Desk. Overview of equipment per room.
If you need help choosing the right video tool, please consult the Teaching support site with a practical comparison of all the video tools and links to their manuals. You can always contact us via solo@fsw.leidenuniv.nl for further advice.
Take a look at the interactive instruction video on setting up your hybrid class.
Videotool instructions
Want to create a meeting or make and process recordings? As a teacher, you are responsible for creating the meeting links on time and for creating and processing the recordings.
Read the instructions
How to make a request for moderation and technical support
As a teacher you can request support in advance for your hybrid class. The support is provided by student assistants who can help you with:
The installation of and technical support with the use of the webcam.
Moderation and technical support during the lecture or workgroup
Please note: these requests need to be made at least 72 hours in advance.
Contact solo@fsw.leidenuniv.nl for more information about requesting equipment moderation and technical support in advance.
Do technical issues arise during your hybrid lecture or workgroup? Call 071-527 8888 and choose option 4: Education ICT Support. If necessary, a student assistant will come to the room as soon as possible.
More didactical and technical support
The university's larger lecture halls are equipped with fixed Mediasite recording equipment for creating weblectures or livestreaming lectures. Next to being recorded, lectures can be livestreamed (with a 30-60 second delay) to students at home or to a different room in the Pieter de la Court building. It's also possible to add a moderated Q&A to the livestream.
Submitted questions are visible only to the moderator on a special Mediasite Q&A page. The moderator can then answer the incoming questions directly via email or pass the question on to the instructor in the room.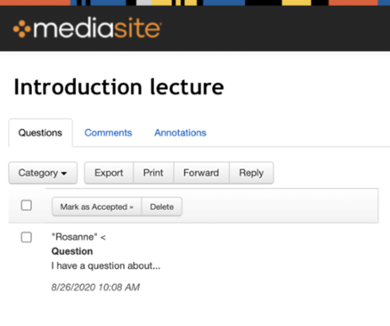 Request weblectures/livestreams
Weblecture recordings and livestreams are scheduled by SOLO and will start and stop automatically on the given times. SOLO will also take care of the editing and placement of the weblecture/livestream links on Brightspace. In addition, we can help you find a moderator for the Q&A.
Does your lecture take place in a room without fixed recording equipment? If this is the case, you can look at the possibilities under the heading Setting up hybrid teaching.
In an online webinar or seminar, all students can participate from home. In order to teach a fully online lecture or workgroup, you can use one of Leiden University's video tools: Kaltura Live Room, MS Teams or Zoom.
Need help choosing a video tool? Consult the Teaching support site for a practical comparison of all video tools and links to the manuals.
You can pre-record your lectures and place them online as knowledge clips or podcasts. Students can access these short video or audio clips on Brightspace at a time convenient for them. This can also allow for more in-depth discussions during contact hours.
With Kaltura Capture, you can record lectures at home and easily place the videos in your Brightspace course. The software allows you to make a screen recording (of your PowerPoint, for example) and record yourself at the same time. Consult the Kaltura Capture page on the Teaching support site for helpful video tutorials and links to the extensive manuals on this screencast tool.
To create podcasts, Audacity is a proper audio recording tool that can be used both at home and at your university workplace. You can upload the recording on Kaltura and place it in your Brightspace course.
Some tips:
Use of a good quality webcam and microphone. For use at the university workplace, SOLO has webcams and USB microphones available for loan (see below: Borrowing a webcam of microphone).
Split the lecture material up into shorter clips (6-8 minutes) and focus on one specific topic or concept per .
It's not always necessary to create new content yourself. Explore if there are materials available already that you can reuse in your course. For example, consider MOOCs, TED talks, or open educational materials from your fellow lecturers.
Connect the video clips or the podcasts to a clear task, activity, or assignment so that students can immediately apply the knowledge provided and test their understanding.
Make your video/podcast interactive with the Kaltura In-Video Quiz feature or the FeedbackFruits Interactive video or Interactive audio tool. This activates the students while watching/listening and lets them check if they have understood the material correctly. As an instructor, you will also gain insight into the knowledge and understanding of the students based on the results and responses in these tools.
Always give students the possibility to ask questions, for example through online Q&A sessions organized with one of the video tools or a Brightspace discussion forum.
Consult the video toolkit for more tips on creating videos or podcasts for educational purposes.
DIY studio
For creating knowledge clips and podcasts, you can also use SOLO's DIY studio. Located in a quiet corridor and equipped with a laptop, high-quality webcam, microphone and studio lights, this DIY studio is perfect for creating your own screencasts, podcasts or talking head videos.
Available software: Kaltura Capture, PowerPoint, Audacity, Camtasia, OBS Studio
Inquire about the possibilities at SOLO
The SOLO lending pool has been expanded with more webcams and microphones for use in your office at the Pieter de la Courtbuilding. The webcams and microphones are available for 1 day-loan and can be picked up/handed in at the SOLO desk between 9.00-17.00.
Leiden University has created a Code of Conduct for Remote and Hybrid Teaching. It contains important guidelines for participating in an online or hybrid class, for example, about behaviour and privacy. You can point this out to your students in advance.
Videos can be easily shared with students via the university video platform Kaltura. This can be done in two ways: you can post videos in your Brightspace course, or you can post videos in a private channel on the video portal and give students access to this channel.
Videos are offered streamed and do not need to be downloaded by the student. There is no visible download button on Kaltura videos unless the owner actively turns this on in the video settings.

Option 1. Upload videos and make them available in Brightspace.
Option 2. Upload videos and share them through the video portal: