Updates

Update 17 August: 1.5-metre distancing rule disappears, from 30 August, university will be open for on-campus education
The 1.5-metre distancing rule within the university will be dropped and education will be completely open from 30 August. However the use of a facemask is compulsory. Working from home will continue to be the norm for staff who do not have a teaching or educational support role. Read more.
Update 19 July: Government coronavirus measures tightened: work at home
As of 19 July 2021, the advice to work from home will again apply unless you have no other choice. Read more.
Update 22 June: Restrictions eased from 26 June and preparations for the new academic year
The Dutch government announced on 18 June that it will be further easing its Covid restrictions as of 26 June. This will give our students and staff more opportunities to work, study and meet up on campus. However, the 1.5m social distancing rule will still apply on campus, and it will also apply to people who have already been vaccinated. The Campus Protocol will also remain in force: stay at home if you have symptoms, always do the Corona Check before coming to the campus and follow the basic rules. We are preparing to provide (all) our teaching on campus from the start of the new academic year, so without any restrictions.
More on the following topics in the Coronavirus update:
Working at the office and the 1.5 m. social distancing rule
The start of the new academic year and education on campus
Orations and promotions
Organizing activities and events
Update 15 December: Continue working from home, location-bound research, practical training and exams are possible on location.
Continue working from home. Only in exceptional cases and in consultation with your manager, you are allowed to work on university premises.
Location-bound research, practical education and exams may continue on location due to the 1.5 meter measures.
Do you teach or do you support teachers in educational activities? Then your profession falls under crucial professions. This means your children can go to childcare, primary schools and out-of-school care. More information about crucial professions can be found on the website of the National Government.
Use your own transport as much as possible if you have to come to the university for physical education or research seeking activities.
For the time being, business trips abroad were and will not be permitted.
Unfortunately, you are not allowed to organize physical Christmas or New Year gatherings.
For a complete overview and exceptions to certain measures, read New measures against corona.
Update 29 September: Continue working from home
With the number of corona cases rising throughout the country, the government has announced stronger measures to protect our health. The rule is therefore: work from home unless you have no other choice. Government tightens corona measures: continue working from home
Update 22 September: Travel allowance through terms of employment individual choices model cancelled
As we have mainly been working from home since mid-March 2020, the Tax and Customs Administration has decided to limit its allowances for travelling to work. As of 22 September 2020, you will no longer be able to use the kilometre allowance from the Terms of Employment Individual Choices Model. This is with the exception of staff on pay scale six or lower. The measure will apply up to and including 31 December 2020.

For all conditions, see the HR page kilometre allowance.
Update 4 September: New version Campus Protocol
The academic year has now started and we are able to welcome many of our students and lecturers back in our university buildings. As more people are coming to the university, we will also have to deal with virus infections among our students and staff. Understandably, this raises some concerns and questions within our organisation, including what to do in the event of an infection. The Campus Protocol has therefore been updated to include this information; a new version of the protocol is now available.
Update 29 July: when do you have to stay in self-quarantine before you can work on University premises?
Have you been abroad this summer or have you come to the Netherlands from abroad for a job at Leiden University? If you have come from a country or area that has an orange or red code to work at a Leiden University location, you first have to spend two weeks in quarantine.
If you are going to work (even partly) on University premises or attend events and meetings in University buildings, you only have access to the buildings if you are not a risk for your colleagues and students. This means:
You have no symptoms (coughing, a cold, fever, shortness of breath). To be sure, you can take the RIVM check.
You have been in self-quarantine for two weeks if you have been in a region or country coded orange or red.
New international staff
We understand that the quarantine measure can be difficult for new international staff. If you have any questions about self-quarantine, please contact your supervisor.
Update 13 July: working on campus during the summer holidays
There will be more space to work at the University during the summer holidays. If, for whatever reason, you would like to work onsite (at your faculty, directorate or expertise centre), please discuss the options with your manager. Whether and how you will need to register or sign in differs per building. We therefore advise consulting your own faculty or organisational unit for the details. Please note: the circumstances may change once the teaching resumes in September.
Update 26 June: more on-campus teaching and events, protocol on human-related research
In the new academic year, options for on-campus teaching (in Dutch) will increase. The university is currently working on increased time slots and adapted timetabling, whilst ensuring a safe environment by taking distancing, walking routes and extra cleaning into account. We are also working with local transport companies (in Dutch) with the aim of spreading journeys to help ensure safe transport for students.
In allocating the available space, which is scarce because of the one-and-a-half metre rule, we will prioritise teaching (and within this first-year students), research and vulnerable groups who are unable to work or study at home. Teaching, research or support staff who do not have to be physically present in our buildings will therefore continue to work from home at least until 1 September and possibly longer.
On campus and online
As a result of the one-and-a-half-metre rule, we are unable to make full use of our teaching facilities. This means students will be offered a mixture of on-campus and online teaching at the start of the academic year. Options will differ per study programme.
Events
What the easing of the measures means for events that have already been scheduled, such as graduation ceremonies, the introduction weeks and the Opening of the Academic Year, is currently being considered. The agreements on PhD ceremonies will remain in place, which means they will be held in the Small Auditorium with a maximum of 20 people and an online video stream.
Protocol on human-related research
The general protocol on human-related research no longer applies. Human-related research is permitted under certain conditions. The new protocols will be shared in the Research in times of corona dossier.
Update 29 May: Working from home as the norm until 1 September
Anyone who can work from home should carry on doing so. And, with just a few exceptions, our teaching and exams will remain online. We expect this to continue until 1 September.
If working from home is not possible
Members of staff who cannot work from home because their work is location specific or because of other circumstances may be granted access to their workspace if they have permission from their manager.
Stay at home when you have flu-like symptoms
Do not come to buildings in the event of:
Corona infection (even if only one family member is infected)
Cold symptoms
Fever (you or a family member). You may only return to work if you or your family member have been symptom free for at least 24 hours.
Modifications to buildings
Modifications to our buildings including instructions, protective screens and extra hygiene measures will ensure that it is safe to work there. The norm in all buildings will be 1.5m social distancing.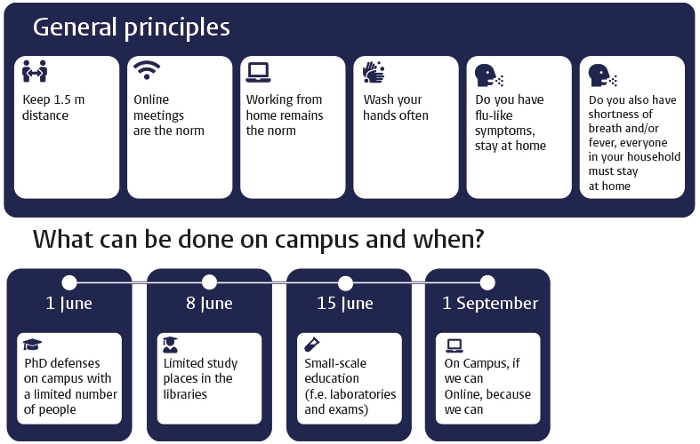 Update 20 May: Working towards the new normal in stages
The restrictive measures imposed by the government to contain the coronavirus are slowly being relaxed. Working at home will continue to be the norm: we will all still be working as much as possible from home. We are expecting that this will continue to be the case until 1 September.
This means that we will also organise as few events as possible for staff on campus, because this would mean their having to come to the University.
Those people who – for whatever reason – cannot work from home or would find it very difficult to work from home should discuss with their manager the possibilities of working partly on campus and/or carrying out other activities.
It is important that you have good facilities for working at home. If you do not have adequate facilities, you should discuss with your manager the possibilities for having the use of an office chair, for example, or acquiring ICT tools.
The relaxation in the rules from 15 June make it possible for specific teaching activities to be carried out that can only take place on university premises. This expressly does not mean returning to work (even in part) in our University buildings, but applies to such things as practicals, small-scale (pre)clinical teaching and mentoring of vulnerable groups. For everybody else, the norm remains: work from home.
We are currently preparing for a possible further relaxation of the rules at a later date, when we may be able to open our buildings for work again – albeit to a limited degree. To make this possible, we will introduce such measures as setting a maximum capacity per room and per building, organising one-way systems, and taking extra hygiene measures.
If this more relaxed scenario becomes possible, managers will determine, in discussion with their teams, which members of staff can work on campus and in what circumstances. Up to 1 September, there will in any event be no obligation to work on campus.
What does the new normal mean for Leiden University, for our students and for our staff? Read more.
Update 14 May: USC Leiden resumes outdoor sports in phases
The University Sports Center Leiden (USC) will resume outdoor sports in phases. Advance reservation is required. Only members can make reservations. Sports must be practiced according to the official NOC*NSF-sports protocol. Read more.
Update 7 May: New government measures & implications
The Dutch government announced new measures yesterday. There are no changes for higher education but the government did announce that it is investigating whether the measures for higher education can be eased.
This means that the measures that we have already taken will remain in force until further notice:
Everyone is expected to work from home where possible. The government has not provided a date for when home working will end, but we are taking into account that this could still take a few more months.
Our buildings remain closed to students, except for the limited services provided by the University Library.
For crucial work that has to be done on-site, the following hygiene measures apply:
Keep 1.5 metres apart from others
Sneeze and cough into your elbow
Wash your hands regularly
Stay at home if you are experiencing symptoms
The government does not deem face masks to be necessary if it is possible to keep 1.5 metres apart from others.
Update 22 April: Consequences of extension of government measures
The Dutch government announced new measures on 21 April and extended many existing measures until 20 May. In this update, we explain the consequences for Leiden University.
No events until 1 September
The government has decided that no events may be held until 1 September at the earliest. Unfortunately, this also means that University events, such as the Opening of the Academic Year and our introduction weeks (EL CID, Hague Orientation Programme, Orientation Week Leiden) will not be able to go ahead in their traditional format. We understand that this will be disappointing for many of you and are now investigating possible alternatives, perhaps in the form of online introductions. As soon as we know more, we will let you know in our updates and will inform the new students that this affects.
Corona measures extended until 20 May
The government has announced that most of the existing corona measures will be extended until 20 May. This means that the University measures that applied until 28 April will also be extended until 20 May.
The Ministry of Education, Culture and Science will issue a new 'service letter' this week with guidance on how research universities and universities of applied sciences can implement the corona measures until 20 May. We may have to make changes to our measures in response to this. If we do, we will inform you as soon as possible.
PhD ceremonies
As the government measures have been extended, we strongly encourage candidates to hold their PhD ceremonies online rather than postpone these until next academic year. We understand that this may be disappointing for some, but otherwise these PhD ceremonies may be postponed for a long time – possibly even into the next calendar year. The Beadle's Office will contact the supervisors of all planned PhD ceremonies. Once events are allowed to be held again, we will hold a ceremony in Pieterskerk for all researchers (and their family and friends) whose PhD ceremony was online.
Update 16 April 17:30: Extra security for Office 365, OneDrive and Teams from 22 April
From 22 April, you will no longer be able to sign into Teams, Office 365 and OneDrive with your ULCN account alone, but will need to go through an extra security step. You will have to verify your identity with Microsoft Authenticator, which you will need to install on your phone.>>>Read more
Update 6 April 16:30: survey working from home
Take our (one minute) survey on working from home
Now we've been working from home for a few weeks, we would like to know how all of our staff (academic and non-academic) are getting on. The Remote Teaching & Testing project team has therefore created a short (anonymous) survey with Qualtrics. The survey consists of four closed and one open question. Take the survey.
Update 3 April 15:00: Emails about changing your password to resume from 6 April
You will receive emails about changing your password again from Monday 6 April. If you are working from home on a laptop from the ISSC, you will have te work with two different passwords.
Update 3 April 13:00: Don't use Zoom and update your computer

Don't use Zoom
Leiden University does not permit the use of Zoom. This is because there are privacy risks that are currently being investigated. Zoom sells or shares personal data with third parties. An option such as Attendee Attention Tracking is also a risk. The University has safer alternatives, such as Kaltura LiveRoom and Microsoft Teams.
If you are invited to a meeting by someone outside the University, for instance, please observe the following guidelines:
Set the cookie settings in your browser to minimal/essential to avoid tracking cookies.
Do not record meetings.
Do not use the download option and do not share documents or files through the video conferencing tool.
Always use a password for meetings.
Set audio and video to mute as a default and only switch them on when you are participating in a meeting.
As a host do not enable attention tracking
Update your computer
Most of you are now working from home, but not all home computers have the latest updates. This makes not only your home network but also the University network extra vulnerable to cyberattacks. You can make your home computer more secure in four steps.
Update 2 April 12:30: Measures extended until 28 April
Following the government decision of 31 March, all University measures that applied until 6 April (such as working from home) have been extended until 28 April. The government announced that it will issue a new decision on 21 April. In response to this, the University will decide as soon as possible which measures will be necessary after 28 April.
Update 25 March 16:30: Please take note before changing your password
Are you working from home on a university laptop issued by the ISSC? If you are not connected to the university network via your university workplace, your password will NOT be synchronised to your work laptop. Have you already changed your password? In that case:
Use your old password on your ISSC laptop (until you are reconnected to the university network at your university workplace in Leiden or The Hague).
Use your new password to log in to Office 365, webmail and all ULCN applications that you use.
Update 25 March 12:30: Changes to Library services
Leiden University Library is now open from Monday to Friday, from 9:00 to 17:00, for the collection of books and other materials (from the book lockers). The Library is closed during the weekend. The collection points at the Pieter de la Court, Van Steenis and Wijnhaven buildings are open during the hours of these buildings. More information.
The Library is also providing access to free digital resources, as well as material specifically for corona research.
Update 23 March 10:00: Do you need an employer statement for day care? Mail the PSSC Service Point

Schools and day nurseries are open to children whose parents work in crucial sectors. Some of these schools and nurseries are asking parents for a statement from their employer about the nature of their work.
If you are a key worker at the University – for instance, if you are involved in organising or providing remote education – we will provide a letter for your school or day nursery as soon as possible. Please send an email to the PSSC Service Point requesting the letter.
Update 20 March 13:00: working with MS Teams
Since last week Microsoft Teams is available to all staff. Go to tips on how to quickly and easily get started with Teams.
Update 19 March 14:30: teaching and assessment online to end of academic year, working from home until 6 April

This morning we announced that all teaching will be remote for the remainder of the academic year. What other working activities are concerned: In principle, working from home applies until 6 April. Depending on decisions taken by the cabinet/ advisories from RIVM, this may change.
This is a momentous decision. Switching to remote teaching will require a huge effort from everyone and will take some getting used to. We therefore don't want to burden you, our students and staff, with such a major change again in the near future.
We hope that this decision will give you peace of mind. If the government relaxes its corona measures, we don't rule out the possibility of reintroducing certain forms of face-to-face teaching or assessment. In principle, however, remote teaching will be the guiding principle for all our degree programmes and courses for the rest of this academic year.