Lecture
LUCIR Book Talk: Contending Orders: Legal Pluralism and the Rule of Law
Date

Thursday 2 March 2023

Time

Address

Room

room 2.59
In most countries, it is the norm for state courts to operate alongside powerful non-state justice systems, whose roots lie in custom, religion, or tradition. Indeed, non-state justice is frequently the dominant form of legal order. In the developing world, an estimated 80 to 90 percent of disputes are handled outside the state justice system, and nearly all post-conflict states feature extensive legal pluralism because of the weak institutions and contested authority endemic to conflict and post-conflict states. Yet the role of legal pluralism is frequently misunderstood and when different justice systems clash, prolonged, potentially even violent conflict, can result.

In Contending Orders, Geoffrey Swenson proposes a new way to understand how state and non-state authorities interact by exploring the full range of legally pluralist environments-combative, competitive, cooperative, and complementary. Drawing upon insights from Afghanistan and Timor-Leste, two countries with extensive legal pluralism, he identifies and critically examines commonly used strategies in legally pluralistic environments and illustrates how national and international actors can better engage non-state justice systems.
About the event
At this book talk, Geoffrey Swenson will present the main findings from his book, after which Andrea Warnecke and Vineet Thakur will provide some comments and questions, before we open up for questions from the audience. The event will be moderated by Eamon Aloyo.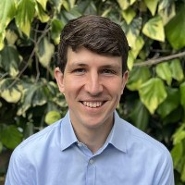 About the author
Geoffrey Swenson is a Senior Lecturer in International Politics at City, University of London, an External Affiliate of Ostrom Workshop at the University of Indiana, a trustee of the British International Studies Association, and a Term Member of the Council on Foreign Relations.
Geoffrey's current research focuses on issues related to post-conflict reconstruction, democracy and the rule of law, legal pluralism, international relations theory, and foreign aid. He welcomes PhD supervision on theses related to those topics.
About the discussants
Dr. Andrea Warnecke is an assistant professor at Leiden University's Institute for History.
Dr. Vineet Thakur is a University Lecturer in International Relations at the Institute for History, Leiden University.
Moderator: Eamon Aloyo (Institute of Security and Governance Affairs, Leiden University).
This event is co-organised by the Leiden University Center for International Relations.