Toolkit Let's connect!
In the toolkit Let's Connect, you'll find articles, videos, training and conversation tools to communicate openly with each other. You will find tips on how to make a connection and how to listen actively. You practice discussing difficult issues and making agreements. You learn to give feedback and reflect on your own behavior, so you can communicate with respect.
Toolkit Let's Connect
Log in with your ULCN account.
Log in
How do you use the toolkit?
You can get started with the toolkit and the material independently. It can help you prepare for a discussion (your PDI for example), or if there's an issue you're finding difficult to raise.
If you are a supervisor and you would like advice on which tools you can use for your team, or if you need guidance on discussions within your department, please contact your HRM adviser.
Webinars: more depth and chance to practice
In the coming months HRM will be organising some interesting webinars on the five themes from the toolkit. We'll be looking at each theme in more depth and you'll have the chance to practise with other colleagues. Keep an eye on the website and newsletter for more information!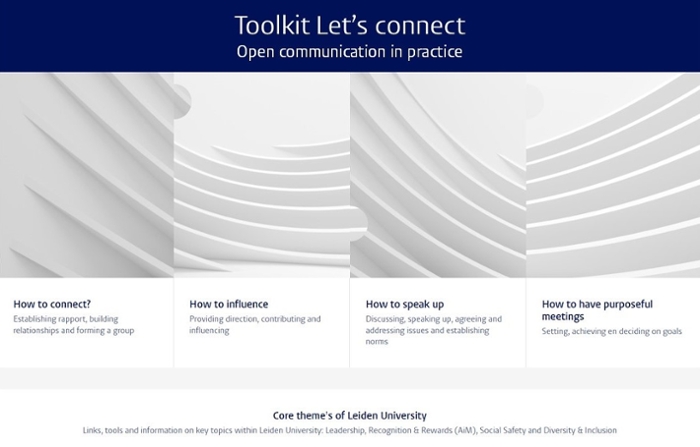 Tips?
We're keen to expand the toolkit. If you have any suggestions for additional tools for the five themes, or feedback on the content, we want to hear them. Mail your ideas to: hrmopleidingen@bb.leidenuniv.nl.