Interview Micha Drukker
Micha Drukker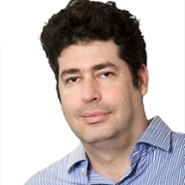 Name:
Micha Drukker
Age:
46
Position/Division:
Professor of Stem Cell Biology and Modeling at the Division of Drug Discovery and Safety
Works at LACDR since:
September 2020
Works at LACDR because:
Induced pluripotent stem (iPS) cells, somatic stem cells, T cells, are part of a dazzling array of cells that create a new class of living therapeutics. A new discipline comprising of efficacy, safety, toxicity, biodistribution and manufacturing of living cell drugs is taking shape, in conjunction with cutting edge basic research of cellular differentiation. I can't think of a better way than joining the LACDR and Leiden University for building a program that combines basic and applied stem cells biology by collaborating with a wide breadth of scientists from numerous disciplines. I take joy in teaching and mentoring students, and I am looking forward to discovering differentiation mechanisms through the use of lab grown organoids generated from normal or disease-affected stem cells. The academic environment at Leiden University is just right for making great science and attaining ambitious goals at the LACDR.
Favorite childhood memory:
Roaming in nature with friends and by myself
Best quality?
Advising PhD students
Worst quality?
Advising of PhD students
When I am off, I:
Enjoy spending time with my lovely family, my wife and three kids.
Snorkeling around sea turtles
Next scheduled holiday:
Austrian and German Alpes
Favorite sport:
Grant writing and occasionally submitting papers
Favorite music:
Everything but Jazz and Opera
Favorite website:
YouTube channel of physicist Prof. Jim Al-Khalili. A must!
Favorite movie:
Movies of Christopher Nolan, James Cameron, Kathryn Bigelow, and Tom Cruise!