Claire Vergerio shortlisted for CEU Excellence in Teaching Award
Political scientist Claire Vergerio (Leiden University) has made it to the final stage of the selection process for Central European University's annual European Award for Excellence in Teaching in the Social Sciences and Humanities. As the 2019 Casimir Prize winner, Vergerio was nominated by the Faculty of Social and Behavioural Sciences. Her students and colleagues are keeping their fingers crossed until June 2021, when the winner will be announced.
'If you don't understand the past, you don't get the present'
Vergerio teaches in the Political Science bachelor programmes in Leiden and The Hague and provides an elective course for master's. A core theme in her work is the interaction between history—or rather, the perception thereof—and international relations. 'In courses like Global History, I tell my students where scholarship stands. What do researchers agree on? What are the important debates about?' Students credit Vergerio for changing the way that they understand the world. 'At first, history may be obscure to many of my students, a bit "dusty" and irrelevant. But then they start to actively and critically debate, for example, the Peace of Westphalia, also during their coffee break. Goal fulfilled! After all, if you don't understand the past, you don't get the present either.'
Role model
Students' course evaluations, and also the Faculty's nomination for the Excellence Award, describe Vergerio not only as 'passionate' and 'inspiring'; she is also seen by many as a 'role model', especially for young women. 'That is something I am particularly touched by', Vergerio responds. 'But in a way, I can also see where it is coming from. It is easy to mistake me for a student, which I was, actually, not too long ago. Seeing someone who looks like them in the position of an instructor and mentor makes my students aware of their own potential.'
Direct impact
Vergerio values working with students: 'In short, it makes me feel "useful". What you do in and around the classroom has a direct impact. What I know, what I share, resonates with students. And that shows in discussions during lectures and also my office hours, which are well-attended.' The appreciation is mutual. Vergerio: 'I learn so much, both from organising my knowledge for the courses and from my students, who come from all over the world and bring their particular outlook on history.' Another bonus, for Vergerio personally, is that teaching has helped her overcome her anxiety to speak in public. 'That used to be extremely difficult for me. In fact, I still find myself a bit jittery sometimes before a big lecture. But once I sense the curiosity, the energy of the students, I loosen up and can really engage in the exchange. In that sense, too, teaching has been a tremendous source of growth for me.'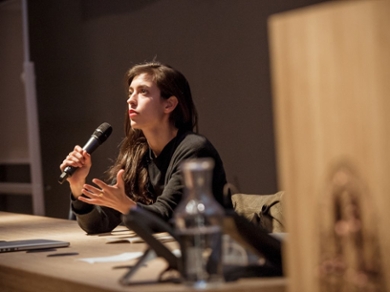 'Books!'
Will Vergerio win the Excellence Award? 'To be honest, I do not expect to win. There are probably quite a few finalists. And some of them likely have a longer track record than mine.' Modesty aside, the nomination and application process for this prize have been worthwhile. 'Just as the Casimir Prize, which I received in 2019 from the Faculty of Social and Behavioural Sciences for my teaching efforts, this is a great honour. There is a lengthy dossier to submit for this bid, but that also makes me reflect on my work and on my approach as an instructor.' And what if she wins? 'Books! I love reading and prefer to do so the old-fashioned way. And while my personal library currently covers my coursework quite well, there is so much to catch up on.'
Pioneers
The European Award for Excellence in Teaching honours academics in the social sciences and humanities who teach at European higher education institutions. Since 2011, Central European University (CEU) annually awards this prize to 'pioneers', for applying innovative teaching methods, combining theory and practice, using a problem-oriented approach and encouraging critical thinking. Besides recognition and prestige, the Award entails a € 5.000 remuneration. The 2021 Award will be conferred during CEU's academic year opening ceremony in September 2021.
Further reading
› Profile page Claire Vergerio
› CEU's Award for Excellence in Teaching in the Social Sciences and Humanities