Royal honour for Korrie Korevaart
Korrie Korevaart, a former director and lecturer in Dutch language and culture at Leiden University, has been made a member of the Order of Orange-Nassau. Korevaart, who has retired but is still a guest member of staff at the university, has received the honour for her work at the Faculty of Humanities and her efforts to preserve historical cemeteries.
From 2001 to 2009 Korrie Korevaart actively worked at Leiden University on plans for a Faculty of Arts, now the Academy of Creative and Performing Arts. This was a complex process because it involved collaboration with the University of the Arts The Hague (Royal Conservatoire and Royal Academy of Art).
The Academy of Creative and Performing Arts is now an institute that conducts research into and teaches about the arts. It also gives artists the opportunity to do a PhD. Equally important, and the groundwork for this was laid in the Academy's early days, is helping dual talents: students with both intellectual and musical or artistic talents can develop both by combining their studies.
Annie Romein-Verschoor Lecture
Korevaart was closely involved in the establishment of the chair in Children's and Young Adult Literature. For many years she was also the secretary of the Annie Romein-Verschoor Committee, which organises an annual lecture by a women on a topical subject on or around International Women's Day (8 March). Korevaart was also a long-standing member of the committee that welcomes a writer-in-residence to Leiden University. This writer gives lectures and the Albert Verwey Lecture. Many prominent writers and poets have been writer-in-residence at the university.
Korevaart focused on many different topics in her work. In 1997 she published about two hundred years of (Leiden) Dutch studies, and in 2001 she received her PhD for a thesis on literary criticism in Dutch newspapers and weeklies in the period 1814-1848. She carried out various studies of children's literature and published about the phenomenon of serials. With city historian Cor Smith she published a book about child labour in former Leiden factories.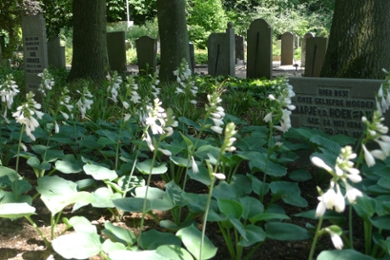 Cemetery preservation
What is unique about Korevaart is her enormous devotion to cemetery preservation. She is a volunteer on the Maria Rust cemetery workgroup in her birthplace of Rockanje. The cemetery, where around 4,000 people are buried, dates from 1820 but was closed in 1952. The workgroup is a fierce –and successful – advocate (and has enthusiastically petitioned politicians) for the preservation of the cemetery. Korevaart drew up an inventory of the graves and their administration, and the workgroup also set about restoring the cemetery and ensuring there would be regular maintenance. Korevaart was also active in fundraising for the restoration work. The cemetery is now a municipal listed building. Korevaart was a pivotal figure in all of this. She is now writing the stories of people who are buried at Maria Rust and has organised various memorial days for their families.
In a broader sense Korevaart is an advocate for cemetery preservation. She is on the board of the Terebinth Foundation, which advises municipalities and residents of the Netherlands about caring for old cemeteries, and she answers many of the questions that come in. Terebinth holds thematic afternoons and excursions, and here too Korevaart plays a key role.
V:
Korevaart K.J.J. (2019), Het laatste huis. Over de graven van Johan Huizinga, Nieuw Letterkundig Magazijn : mededelingenblad uitgegeven door de Maatschappij der Nederlandse Letterkunde 37(oktober 2019): 56-60.
Korevaart K.J.J. (2017), 'Het funeraire boek. Boeken op de laatste rustplaats.'. In: Anrooij W. van, Hoftijzer P. (red.) Lezen in de Lage landen. Studies over tien eeuwen leescultuur. Hilversum: Verloren. 283-288.