'We teach in the FC Emmen canteen'
Alumna Louwien Eising is headteacher of Carmel College in Emmen. How have things been during the pandemic? And how has her degree in Education and Child Studies helped her? 'In the evening I was attending lectures and the next day I was applying what I'd learnt in the classroom.'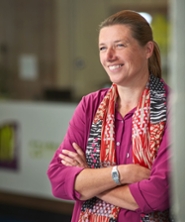 You've been headteacher at this school in Emmen for almost a year now. How has that been during the pandemic?
'It's been an endurance test, for me and all the staff at the school. There was so much to organise, and the situation kept changing. We try to provide custom solutions for the pupils because there are great differences between them. That's why we arranged for emergency places for pupils who were falling behind at home. At the end of November the number of infections was too high, and the school had to close for two weeks. But the teaching continued online and luckily the children now come to school three days a week.'
How great is the damage?
'There are definitely some deficits, but I'm incredibly proud of how the pupils and teachers have dealt with all of this. This crisis has brought us closer together and increased our creativity. We've had to keep finding new solutions. We gave lessons in the canteen of FC Emmen, our premiere league club. The pupils thought it was fantastic being taught there and spotting famous footballers every now and then. There's a great willingness to help others, in a city like Emmen and at our school.'
'I asked so many questions at teacher training that my lecturers advised me to go to university'
Before this job, you worked as a team leader for ten years, on a teacher training programme in Emmen, for instance. What did that involve?
'An important project was changing curriculum and merging of a number of teacher training programmes. At the time there were five programmes (at what was then Stenden Hogeschool) in the northern Netherlands that were seeking a new identity and profile. We created room on the curriculum for different specialisations. In Emmen that was science and technology, and multilingualism. These different profiles allowed for more depth. I also developed a teaching method to encourage more active and exploratory learning in students. I now want to introduce that approach more widely at Carmel College. We're going to offer more project-based learning in collaboration with parents and partners from the business community.'
How does your degree in Education and Child Studies help?
'I still benefit a lot from it. Systems thinking is something I learnt in Leiden: seeing the big picture and being aware of which patterns influence the work. Before studying at Leiden I did teacher training. I asked so many questions at teacher training that my lecturers advised me to go to university. That was a busy time. In the daytime I was teaching at primary schools in Roelofarendsveen and Oegstgeest and in the evening I was attending lectures in Leiden. It was intensive but it was great to be able to apply what I'd learnt in the lectures in the classroom the next day. I didn't have any time for an active student life, but I lived in a fun student house in Leiden.'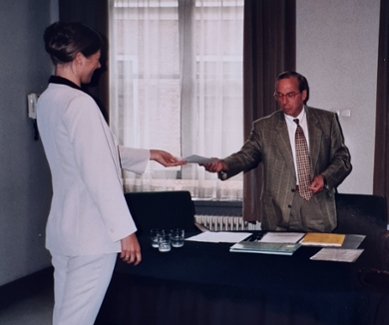 What did you do after you graduated?
'For a final-year assignment I developed a training portfolio for staff at CenterParcs. I had two specialisations: curriculum development and business training. After CenterParcs I ended up at ASML, the chip manufacturer. There I shared responsibility for staff training. I also trained staff myself, in the Netherlands and America. It was an exciting job at such a fast-growing high-tech company and I'm glad that I spent a good amount of time working in the commercial sector. It taught me how to make quick decisions.'
Why did you return to education?
'ASML started making cuts, which meant less was possible. For me it was a good time to return to my old love, primary schools. I became head of department and later headteacher at a primary school in Eindhoven. All these different experiences, from primary school to university and in the business world mean I'm always seeing ways that my colleagues and I can make our teaching relevant. I brought education to ASML and CenterParcs and now I'm bringing business practices to education. It all comes together in the end.'
Text: Linda van Putten