Nadine Akkerman is the winner of the LUCAS Audience Award 2021
The LUCAS Audience Award 2021 has been awarded to Nadine Akkerman. This is a prize for researchers who appeal to an audience wider than the academic community. The prize consists of 1000 euros, a trophy and eternal fame.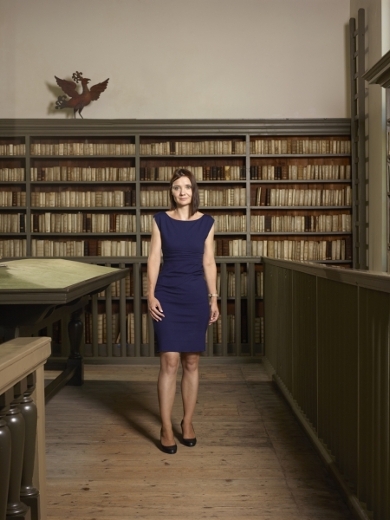 For this award the jury focused on extraordinary achievements accomplished in the calendar year 2020. Apart from Nadine Akkerman, the other nominated candidates were Stijn Bussels, Julian Ross and Peter Verstraten: four formidable candidates!
One could make a long list of all the activities that Nadine Akkerman has generated in order to reach out to the general public, including her historical consultancy for television and museums and her important work as a member of the Young Academy. But she was especially nominated because of three major achievements in the year 2020: the videos that she made on her letter locking research with MIT colleague Jana Dambrogio; the paperback edition and other activities related to her award-winning bestseller Invisible Agents; and last but not least the beautiful episode that she made with VPRO television for the documentary series Big Questions (Grote Vragen). While secrets and stealth play a crucial role in her research, in this interview Nadine Akkerman clearly and lucidly explained how important it is to show, to investigate and to understand the essential role of women in history. It is no suprise that many young researchers (inside and outside of LUCAS) testify that they are very much inspired by Nadine Akkerman and her scholarship. Her work is incredibly important and influential, as it benefits a very large and international audience. We congratulate Nadine Akkerman with the LUCAS Audience Award 2021!
'The LUCAS Public Prize recognises far more than simply the 'impact' one individual and their work has achieved – rather, it makes it plain just how much time many of those in LUCAS spend on 'impact', much of which takes place in the evenings and weekends. It is wonderful to have this effort recognised by my peers, and my hope is that this recognition will be transformed into something more lasting. We are all in agreement that impact is no mere window dressing, but is now a core task for scientists, ranking alongside teaching, admin and research. Now is the time for impact to take its place within the university-wide plans to implement a new system of Recognition and Rewards'.
The LUCAS Audience Award
The first LUCAS Audience Award was awarded to Hugo Koning in 2019. The second one was awarded to Thijs Porck in 2020. The jury consists of the members of the LUCAS Impact Committee: Rick Honings, Astrid van Weyenberg, Olga van Marion, Sara Polak, Andries Hiskes, Casper de Jonge, and since this year also former winner Thijs Porck. The jury thanks all LUCAS colleagues who nominated a colleague or themselves. They were very impressed by all the candidates and their performances in the field of impact, outreach and valorization.\
Read also: Article Leidsch Dagblad 16 juni 2021