Six modes of co-production for sustainability - Marja Spierenburg in Nature Sustainability
In a recent publication in Nature Sustainability, an international team led by Josephine Chambers from Wageningen University, and including Marja Spierenburg from the Institute of Cultural Anthropology and Development Sociology at Leiden University, have developed a practical tool for researchers and societal actors to critically explore when and how particular co-production approaches may be effective or constructive.
Collaborative governance, social learning, co-design, transdisciplinarity, and participatory action research—these are just a few of terms used to describe the varied processes of knowledge co-production which broadly seek to connect researchers and societal actors to collaboratively produce knowledge for societal change. But despite their promise for developing legitimate solutions to complex sustainability challenges, there are growing concerns.
Very little is understood about how each approach frames the purpose of co-production, conceptualises power, approaches politics, and theorises impact pathways. And in some cases, co-production processes have entrenched social inequalities and power relations, or even failed to reach sustainability goals at all.
The tool can be used to navigate the trade-offs and risks associated with challenges around power, impact, and scale, and aims to facilitate critical reflection on the design and practice of knowledge co-production processes.
"Our analysis shows that co-production requires careful and reflexive facilitation taking into account power relations between the various actors involved, in order to bridge different perspectives, values and identities"
- Marja Spierenburg, co-author
Analysis of 32 diverse cases
The researchers analysed 32 cases that sought to advance sustainable development through co-producing sustainable interactions between people and the environment, fostering engagement between research, government, NGOs and diverse societal actors including CEOs, urban planners, indigenous leaders and artists. The initiatives work on complex challenges, from habitat degradation and climate change to wildfire outbreaks and unsustainable supply chains.
"The process of jointly analyzing the 32 different cases from around the world was a highly valuable one, and a co-production exercise in its own right. Trying to make sense of our different experiences and learning from our collective struggles was a truly inspiring endeavour, resulting in new insights that will help us in enhancing the transformative potential of our work. We have already begun incorporating this learning - as well as ongoing collective reflexivity" says Marja Spierenburg.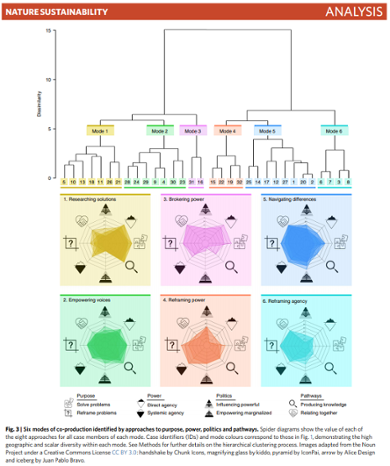 Six modes of co-production
The authors identified six modes of co-production and their unique potential to produce particular outcomes and risks:
Researching solutions

Empowering voices

Brokering power

Reframing power

Navigating differences

Reframing agency
These modes show great potential for changing narratives, policies, and institutions – in ways that help create a more sustainable world. However, "no mode is ideal," they say. "Each holds unique potential to achieve particular outcomes, but also poses unique challenges and risks". For example, cases that supported environmental decision-making risked marginalizing other knowledge forms, such as that of local and indigenous peoples. They also caution against the overemphasis of scientists on filling knowledge gaps, as they find this can hinder the attainment of actual societal change.
"We encourage the application of this practical, reflexive tool to open up dialogue and strengthen transparency in design choices in co-production processes for sustainability, and welcome future evaluations of its effectiveness for guiding scholarship and practice," the authors conclude.