Assessor Julie Külsen: 'I'd like to be a clear point of contact for students'
Julie Külsen is the student member on the Faculty Board, called the assessor, this academic year at Leiden Law School. Who is Julie and what does the assessor actually do? How can she help students? Let's meet our new assessor!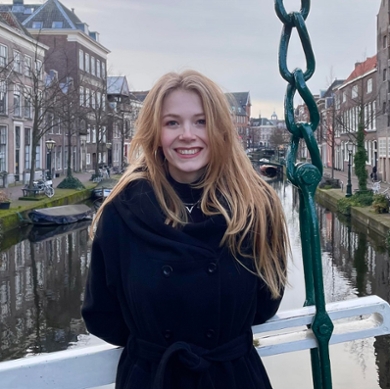 Hi Julie! Tell us about yourself
'Hi everyone, my name is Julie Külsen and I'm 22 years old. I started studying IRO (Political Science: International Relations and Organisations) at Leiden University in 2017. It's a really interesting programme, but I felt that I wanted to learn about the outcome of political decisions i.e. law and its impact. So it seemed like a perfect combination to start studying part-time for a degree in Law as well. I have now graduated in Political Science and have 160 credits towards my degree in Law. Besides studying, I'm also involved in a study association, a tennis club and I also participate in the University's co-participation body.'
You are the assessor this academic year. So what does an assessor actually do?
'An assessor is a member of the Faculty Board who represents the interests of students. The Board decides what course the Faculty will pursue and I am there to see what this means for the students and to provide the student perspective in the administrative process. Students have a different view on certain matters than for example the administrators or other staff. So I also consult with students and ask them what they think of certain ideas. I am in close contact with the various study associations and students at our Faculty. I also make sure that decisions are communicated properly to students and the impact of such decisions on their studies and student life.'
How can you help students?
'In my role as assessor, I am familiar with the organisation of the Faculty. Students can come to me with questions or remarks and I can pass these on to the appropriate person. For example, if you have a good idea to improve certain facilities at the Faculty, or if you want to set up a project with fellow students, you can come to me so we can see what's possible.'
'As the assessor, I will try to ensure that all students are considered.'
The past eighteen months were not easy for students because of Covid. How did you cope? And what experiences will help you in your role as assessor?
'Until recently, I was living in student accommodation together with 18 other students. So I did at least enjoy social contact during the pandemic. But it also brought certain challenges. For instance, studying with other people around you can be hard, especially when the Wi-Fi connection is bad and you have to share it with so many others. So I often booked a place at the University Library and at the KOG building to be able to study in peace. I also noticed that the pandemic affected my fellow housemates in different ways. Each student gets through a crisis like this in their own way. In my role as assessor I will try to make sure that all students are considered. I'm so happy we're back to classes on location because I really missed the discussions and interaction when we were only taught online. I'm looking forward to asking my fellow students how they experienced the past eighteen months so I can provide their insights during meetings with the Faculty Board.'
How do you envisage the upcoming academic year? What's going to be important for students?
'I think that we all discovered during the pandemic how good it is to have face-to-face discussions about what we are being taught. So I think we need to see how this can be facilitated as much as possible. I think that students find it very important that there is a good balance between face-to-face teaching and online teaching and examinations. It's also very important that everything that is decided at the Faculty is communicated to students adequately and in good time. I've also noticed a growing interest among students to become involved in sustainability. It would be good if the Faculty is clear about the value we attach to being a sustainable university and stating what we are doing to achieve this.'
How can students contact you?
'Students can come and see me every Wednesday from 11.00 am to 12.00 am in room B4.32 on the fourth floor of the Kamerlingh Onnes building. I can also be contacted by mail (assessor@law.leidenuniv.nl) and by phone (071- 5277621). If you want to discuss a specific matter, please make an appointment by sending me an e-mail.'
Anything else we need to know?
'I hope I'll be a clear point of contact for students at our Faculty. Feel free to approach me in the corridor or come and see me on a Wednesday morning. The position of assessor is really challenging and interesting because you learn a lot about the University as an organisation. If you want to find out more about the University or how things are run at our Faculty, do get in touch and we can meet for a coffee.'