Imagine you're Ilias from Turkey
In the confrontational 'House of Misconceptions', visitors put themselves in another person's shoes and have to justify their existence. The performance is the result of a unique collaboration between the Liquid Society art collective and Professor of Law and Society Maartje van der Woude and her students.
The waves of the De Zijl river in Leiden lap gently at the open boat. Its small group of passengers are on their way to the 'House of Misconceptions' performance, part of Festival 2030. It promises to be a relaxing trip on this Sunday 26 September, until just moments later the performance begins already. The passengers are given a form and told take on another identity. They are only given the name, age and place of birth of their new persona. They have to come up with answers to questions about their work, family and personal preferences on the fly. 'And put your personal property in this binbag,' says a guide. The parallel with migrant boats is soon drawn. Where will this lead?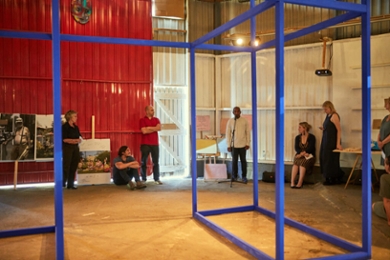 European refugees
The boat moors at a field and the group makes its way to a tall barn. Host Abdalla Daif begins with a compelling story about refugees and our Western perceptions of them. 'With refugees you think of people from Africa or the Middle East. But after the Second World War there were over 750,000 European refugees in the Middle East.'
Having covered the history, Daif begins an uncomfortable interrogation. Each participant has to justify their character's existence. Where do you work and how can you prove that? Who are your parents, your neighbours, your friends and what do they do? How is your relationship with them? All of a sudden it's painfully clear how unpleasant it is to have to justify your existence under a volley of questions.
Process of othering
Then it's time for an intermezzo. In a recorded message Maartje van der Woude, Professor of Law and Society, speaks to the visitors. She is projected onto a wall as she reads passages from her article on the process of othering, a way of defining your own identity by distancing yourself from others. Photos and drawings are shown of 'me and the other' (collected by her students, it transpires later). Then Daif continues his interrogation until the barn doors open again. On the boat back the visitors breathe a collective sigh. They can be themselves once again, without having to justify their existence.
Effects of the performance
This was the last 'House of Misconceptions' performance for now. Time to look back at this unique collaboration. Abdalla Daif – in his own words an Egyptian performing artist – wrote and directed the piece. What did he hope to achieve? 'House of Misconceptions is about the idea of the other, our perception of and how we see others. The boat trip symbolises the journey to becoming someone else. So suddenly you're Claudia, born in Friesland in 1953, and you have to imagine what it's like to be her. Or you're Ilias from Turkey. What's your history then?'
For his performance Daif researched integration processes and the position of migrants. He also gave workshops to the Leiden students on how to reflect artistically on their research. Van der Woude and her team and students researched whether there is a distance between groups in Leiden society.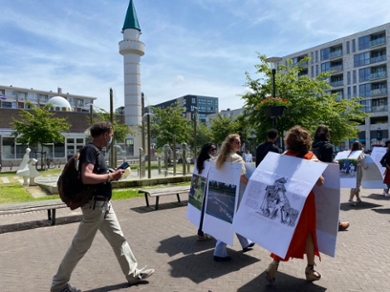 Do migrants feel welcome in the city?
On another day we ask Van der Woude about the aim of her research. 'We look at the distance experienced between people with and people without a migration background. And we focus on the question of whether different migrant groups feel welcome in the city.' In one study she and her students looked at how Covid and the government measures affected the different groups. Did social distancing make Leideners more distant? Her students from the 'Leiden Revisited' master honours class helped collect data and did street surveys in Leiden Noord and Leiden Zuidwest. They will share the results at 3 October University (open to the public and this year on 4 October. The talks are in Dutch).
Enriched artistic and academic work
How do the two look back on the collaboration? Daif: 'All the knowledge and the reflections of the researchers and the 24 students really helped. I'd never have been able to achieve this alone. It therefore enriched the artistic work on the one hand and the academic work on the other.'
Van der Woude shares his opinion: 'The collaboration was particularly inspiring, both for us and for the students. It was refreshing to look differently at topics that I have thus far only studied in a purely academic way. How research can be translated into an artistic expression that means you don't just reach colleagues from the discipline but also enter into a dialogue with a wider public.'
House of Misconceptions may be performed again in 2022 when the Leiden Revisited honours class starts again.
Text: Linda van Putten
Photos: Sebastiaan de Groot