Valerie Sticher wins Cedric Smith Prize 2021
Valerie Sticher has been awarded the Cedric Smith Prize 2021 of the Conflict Research Society (CRS) for an article she wrote as a part of her dissertation at ISGA last May. The Cedric Smith Prize is awarded annually to the best article or thesis chapter in peace and conflict research by a PhD student. Sticher is FGGA's first cum laude PhD student.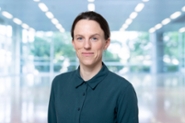 Her winning article 'Negotiating Peace with Your Enemy: The Problem of Costly Concessions' is published in the Journal of Global Security Studies and adds an additional explanation for why negotiated agreements to end civil wars are so hard to achieve even if the leaders of all sides would prefer to settle. She is very honored with the prize. Sticher: 'To me, the prize is a recognition of the value of my approach to combine a rationalist framework with insights from socio-psychological peace and conflict studies.'
The CRS received 15 excellent submissions for the prize from all over the world. An article about Sticher her dissertation can be found here.