Encouraging secondary school students to think and talk about sustainability and policy
Anne Veens is on a mission. She wants secondary school students to get acquainted with anthropology, and think about the value it can have in the development and implementation of policy. To achieve this, she has developed a teaching package. Last July, she successfully ran the first pilot. 'Most pupils like to be involved. They don't want to be called 'the next generation' but actively participate in thinking about current issues.'
Veens graduated in 2019 with a Master in Global Ethnography. During her Master she focused on the experiences of farmers, nature managers and other stakeholders in the implementation of nature and agricultural policies. She now works as a teacher and is coordinator of the job market within the Cultural Anthropology programme. Together with her sister-in-law and educationalist Kim Claassen and her brother Tom Veens who is a media designer, she developed the teaching package. This package consists of three consecutive lessons that deal with sustainability, policy and anthropology. The goal is to let students think about sustainability and show them that not only ecological and technological aspects of climate and nature policy are important, but also the social context in which policies are carried out.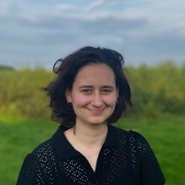 Students want to have their say
In the first lesson she gave, Anne was surprised by the pupils' reactions to the theme of sustainability. Veens: 'Students expressed that they experience sustainability as a burden placed on their shoulders with the message that they are 'the next generation' to solve the climate problem. They indicated that they would like to contribute to innovation, but not in the role of passive recipients of sustainability policy.' By conversating openly and listening to their view on sustainability, a good discussion emerged. The most important conclusion: keep on thinking critically about sustainability and about how that concept is not unambiguous but can have many meanings.
Role-play with different perspectives
Policy may seem a tough subject for secondary school students, but the interactive role-play developed by Veens makes it a very dynamic, practical lesson. Using two case studies about large grazers and organic farming and the accompanying roles, the students are encouraged to think from a different perspective. It challenges students to experience how (inter)national policies can have a different impact on different stakeholders at a local level. Veens: 'With both the introduction of wild animals into a nature reserve and organic farming, you see that usually none of the parties involved are against making the environment more sustainable, but that there are clashing interests, ideas and feelings about the policy on which it is based. An ecologist, for example, will look at the landscape differently than a farmer who has to use it to keep his business running. It's good to keep this in mind.'
Only when people start protesting against a certain plan an anthropologist is called in. Why aren't we involved from the start to map out the different positions?
For successful policymaking you need to look at behaviour
In the last lesson students learn about learned behaviour and how it largely determines our view of the world around us, based on anthropological theories and the nature/nurture and agency/structure debates. This can be linked to how 'solutions' to climate problems are also experienced so differently. Veens: 'Looking at social conditions is often seen as an afterthought. Only when people start protesting against a certain plan an anthropologist is called in. Why aren't we involved from the start to map out the different positions? For policy to succeed, it is essential to look at people's behaviour and the impact of policy in practice.'
Teaching at secondary schools
After the first pilot, Veens received enthusiastic reactions from both teachers and students. She has been asked to come to the school again with the lessons package. Veens enjoys teaching at secondary schools. She wants to develop the package further with the feedback from the students and can see herself teaching at a secondary school in the future. Veens: 'I like the honesty and diverse ideas of these young people. I have been teaching at the university for a year now and I like it very much, but sometimes I miss the contact with the world outside. Here, everyone has consciously chosen anthropology, which can sometimes feel a bit like a bubble. But it's also fun and challenging to talk to students who have never heard of anthropology and would choose to study economics or biology. Then you get valuable discussions in the classroom, which sometimes strongly resemble discussions that are held on a larger scale'.