Charlotte van der Voort wins Leiden Thesis Prize
The winner of the Leiden University Thesis Prize has made an original and substantial contribution to argumentation theory. This is what Annetje Ottow, President of the Executive Board and member of the LUF board, said at the online ceremony for the University's thesis prizes. The winner of the first prize is Charlotte van der Voort. She received her Master's degree in Dutch Discourse Studies with the summa cum laude distinction.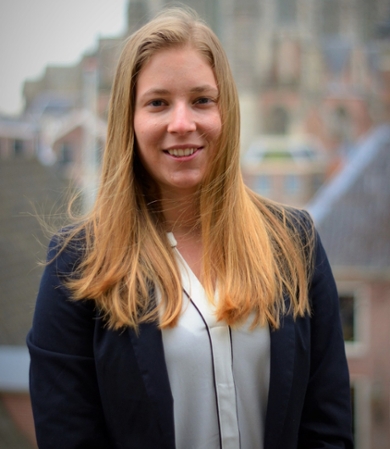 The candidates for the annual thesis prizes – first, second and third prize – are nominated by their faculty. First-prize winner Charlotte van der Voort was nominated by the Faculty of Humanities. She studied dilemmatic arguments, that is to say, an argument in which two contradictory alternatives are presented that lead to the same conclusion. According to the jury, Van der Voort had made an original and substantial contribution to argumentation theory by integrating classical rhetoric, modern logic and pragma-dialectical theory of argumentation and illustrating them with the aid of contemporary examples. Van der Voort was awarded a prize of 3,000 euros. She is currently working as a student assistant on research into argumentative style.
Second and third prize
Second prize (2,000 euros) went to Tim Lubbers (Law) who researched the origins of shipowners' limited liability from a legal-historical perspective. He was fascinated by the fact that around 1600 damage caused by a ship could be settled by relinquishing the ship to the injured party.
Third prize (1,000 euros) went to Marieke van Winkelhoff (Archaeology). She questioned a generally accepted idea, namely that glass vessels deposited in Merovingian graves must be related to drinking and eating practices at a funeral. Her alternative vision is that the glass vessels could have been used as lamps. This has significant consequences for the interpretation of burial rituals in the Merovingian period.
Leidse University Thesis Prizes
An outstanding thesis, an impressive report or the best research question. With various prizes, the LUF encourages ambitious students to get the best out of themselves. The Leiden University Thesis Prizes fit perfectly with this tradition. Each faculty can nominate one thesis for the prizes. The prizes are made possible by the Minerva Class of 1957/1961/1965 Alumni Fund.
Image Academy Building: Marc the Haan
Image in text: Charlotte van der Voort