Grand opening of POPcorner The Hague
With an opening speech, a panel discussion on the Spanish Steps in Wijnhaven and a push on the red button outside the building itself, POPcorner The Hague was officially opened by Rector Magnificus Hester Bijl on Thursday afternoon.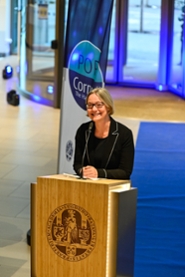 At the opening Hester Bijl spoke about how important it is that there is now an accessible location in The Hague where staff and students can form a community. 'In addition to the connections through our teaching, there is now also a place where staff and students can actively build a close community by organising all kinds of activities outside of the teaching.'
Joining forces
With POPcorner The Hague, the three faculties FGGA, FGW and FSW are joining forces with student associations, student advisers, the student well-being officer and other stakeholders to help our students find their way around The Hague, promote study success and strengthen social bonds. The goal is to work together to build an inclusive learning environment within the University.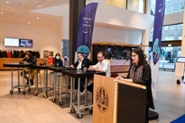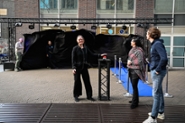 Dinner parties and games evenings
After the opening address and the panel discussion, the guests crossed the street to Beehive. POPCorner The Hague is located on the ground floor. Erik van der Zanden, the coordinator of POPcorner The Hague, is pleased that the meeting place can now really get going and that the opening could be held this time having previously been postponed because of Covid. Van der Zanden: 'In addition to the workshops, we will also focus on expanding the Hague community by, for example, organising monthly dinner parties and various games evenings. These initiatives have already proved successful in Leiden, for example. Playing a cool game in small groups really helps make students feel at home.'
Now that POPCorner The Hague has its premises in The Hague, students from other faculties wo;; no longer have to travel to make use of the facilities. POPCorner wants everyone to feel at home at the University and their faculty and wants to help people's personal and professional development by offering activities or a listening ear.
Photos by Arash Nikkhah
To find out more about the PopCorner office in The Hague and the courses and workshops it offers, see here.