From master's thesis to scientific article: 'Really strange that people are able to quote me now'
Vivian van der Linde completed her masters Crisis & Security Management in the summer of 2020 by writing a thesis on Dieselgate. Freshly graduated, she felt she wanted to do more with her research. But how do you go about that, having just finished studying? Together with her thesis supervisor Wouter Jong she entered a tedious process.
Roughly a year-and-a-half later, it paid off. The article she co-wrote was published by Elsevier's Public Relations Review in January. Van der Linde: 'I was lucky to have Wouter as my supervisor since he felt it was such an interesting subject.'
Vivian grew up in Vienna, but as a child born to English and Dutch parents decided she wanted to study in the Netherlands. After successfully completing her bachelor's European Studies at the University of Maastricht, she made the decision to move to The Hague and enrol in the master Crisis & Security Management at FGGA.
The research
Vivian's research topic was the so-called 'Dieselgate'. In 2015, it came to light that the German car manufacturer Volkswagen had illegally installed software to produce fake NOx emission results. Vivian looked into the role of the German news media while reporting on the affair and subsequently analysed how the media had framed the role of Volkswagen. In 2018 the affair expanded from encompassing just Volkswagen to a crisis in the entire car industry, so subsequently, the former FGGA student also wanted to ascertain whether the German media had labelled the 2018 crisis as an industry wide phenomenon. Vivian's findings show that the 2018 Dieselgate was perceived as an industry wide scandal, with the dominant frames used to portray the affair being the conflict, morality and responsibility attribution frames.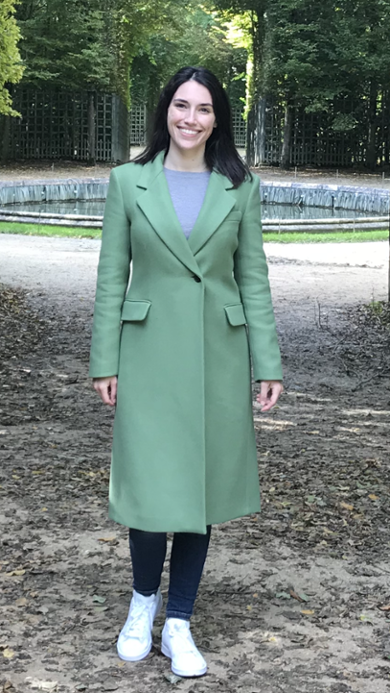 The process
Converting her thesis into a scientific article was quite the challenge. For instance, she had to thoroughly review and shorten her entire thesis together with her supervision, because otherwise the article would be too long. Something the alumna had mixed feelings about. Van der Linde: 'After finally handing in my thesis after a lot of hard work, I wasn't too keen at first to go over it a second time.' Especially, since it can take six months or longer to receive a response of a scientific journal. Despite that it was worth it: 'It was great fun and very exciting to do something with it. That was really nice. Even though I find it really strange that people are able to quote me know.' Chances are that it is likely to happen in the near future; supervisor Jong has chosen to add the article to the literature list for his upcoming classes. Future CSM students will definitely come across Vivian's work.
International environment
At the moment, Vivian is working as a Business Continuity Manager for a company called card complete as Business Continuity Manger in Vienna, the city she grew up in. She really enjoys working there but hasn't ruled out going back to university just yet. 'I really miss being able to learn so much and the Dutch university system.' Mostly because of the international environment. 'Here, you don't have an environment such as in Leiden or The Hague where you are constantly being surrounded by different languages and are following classes with so many different nationalities.' Vivian has made many friends during her time as a student with fellow students who now live spread out all across Europe.
More impact than you might think
The former student is very aware of the special situation she finds herself in and that publishing an article at such a young age just isn't a possibility for everyone. Yet, she is also certain that it is possible for other students to do more with their thesis. Van der Linde: 'I believe that it's best to really talk it over with your supervisor. Another tip is - if at all possible – to collaborate with fellow students, so you have multiples sets of eyes looking at your work.' And what other advice does she have for the current generation who are now living live as a student? 'Enjoy it, but also be aware of the huge impact it can have, even though it may not seem like it at right now.'
Text: Hanna Buijnsters