Belittling and threats are part of everyday life for outspoken women
In a fiery Annie Romein-Verschoor lecture, Sylvana Simons opened up about her experiences as a woman in politics. The leader of the BIJ1 party is regularly the subject of belittling comments and threats. Writer Aafke Romeijn, who reflected on the Simons' lecture, has also been threatened frequently because of things she has said. Watch the lecture again.
In her lecture on 11 March (see video below), Simons used television clips to show how politicians and TV presenters react to her. 'Sit down and show some humility,' a fellow politician on the Amsterdam municipal council told her when she criticised excessive violence by a police officer. And Prime Minister Rutte could not resist asking why she was 'being so irritable' when she calmly asked a few sharp questions in parliament about the government's coronavirus policy. Even more concerning are the death threats the MP has been receiving for years, something she did not want to go into too much detail about. But what she did want to say was that it has not made her any less militant.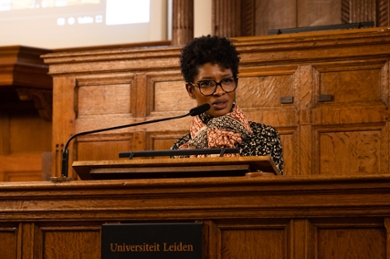 'Women are supposed to be gentle'
Simons referred several times to Leiden historian and feminist Annie Romein-Verschoor, who, three-quarters of a century ago, was also irritated by the stereotypical, modest image that women had to fulfil: 'Women are supposed to be gentle. Male politicians often don't treat female politicians as their professional equals, women of colour in particular. Men are afraid of something being taken away from them.'
Male gaze
In recent years, writer and musician Aafke Romeijn has also received many threats when she has talked politics on Twitter. People have even threatened that they know where to find her family, and she has reported such abuse to the police countless times. To protect her family, she no longer uses Twitter but chooses her platform carefully. In her speech in the Academy Building, Romeijn also criticised the male gaze: in their comments, many men often don't address the content of the message, but instead judge the woman on 'whether she is ugly or fuckable'.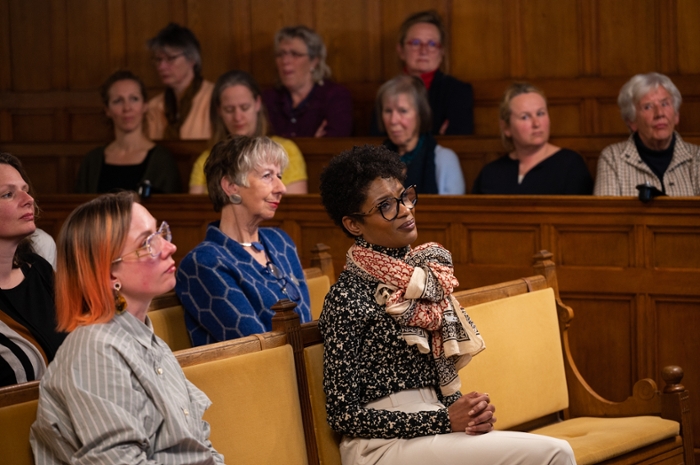 Hide of an elephant
Several women in the audience wanted to know how Simons and Romeijn keep going and if they had any tips. 'Pick your battles,' said Romeijn. Simons called on women to enter politics, 'but make sure you have the hide of an elephant.' Yet there is hope on the horizon, she said. People are becoming more aware of their ingrained prejudices: 'I've got them too.' In ten years' time, things should be a lot more equal in politics she said – at least that's what she hoped.
'Many men don't focus on the message but on whether a woman is ugly or fuckable.'
Researchers from Leiden University – women and men – are also intimidated and threatened when they speak out in public. In their welcome speech, Diversity Officer Aya Ezawa and President of the Executive Board Annetje Ottow emphasised how important it is to be a university where everyone can speak out freely and feels safe. The Dutch universities are now taking national measures, from a zero-tolerance policy to psychosocial support. They have also developed the 'Addressing threats to and intimidation of academics' (in Dutch), which Leiden University also uses. If you are a researcher and have been threatened or intimidated online or off, report it to your manager or the Security Department. The university will do all it can to help and support you. If this happens to your colleague, don't be a passive bystander but support them instead. Read more about this in the speech by classicist Ineke Sluiter at the Dies Natalis in 2021.
Text: Linda van Putten
Photos: Eelkje Colmjon