Jasper's day
On January 1st Jasper Knoester started as our new dean. How is he doing? What exactly does he do? And what does his day look like? In each newsletter Jasper gives a peek into his life as dean.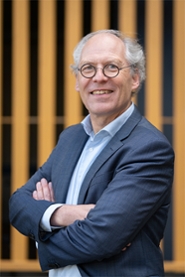 Monday 28 February
'It's Monday, so I'm on the train at 6.48 in Groningen en route for Leiden. This weekend I came back from a fantastic week skiing, so I've got a lot of mail to work my way through on the journey. It's great that during that week away the days have got a bit longer and it's already light before I've even got as far as Zwolle!
It's going to be an interesting day in Leiden. In the morning I'm visiting my seventh institute; this time it's LIACS. I really enjoy these visits because I get to meet different groups; and they help me to learn more about the faculty. The visit takes in different groups in the Snellius building. Enthusiastic staff, PhD candidates and students make some interesting and unexpected demos. I had never expected, for example, to be exploring a zebra fish from the inside! The visit ends with a few short presentations and a discussion about fund raising and contacts with the business sector. It's good to pit our wits together and come up with ideas for how we can make the faculty stronger in this area.
'I never expected to be exploring a zebra fish from the inside'
In the afternoon it's the discussion with the Faculty Council. It makes such a difference now that we can do that in person! Sitting in a room with the Council members rather than everyone on screen makes for a much more lively dialogue. The discussions are in greater depth and more active. The chairman of the Council, Maths student Victor van der Horst, chairs the meeting. In past years, the dean always did that but I prefer the chairman to be from the Council; it puts the Council in a better position to present questions to the management. That's what I was used to in Groningen, but this is for me the first time that a student has been chairman. Victor does the job superbly; he guides us without a hitch through a varied agenda. If it's up to me, we'll always do it this way in future.
I'm staying in Leiden this evening, preparing Tuesday's meetings, chatting with my family and closely following the developments in Ukraine. Unfortunately, there's little we as a faculty can do about the conflict, but the impact on our faculty community is taking up a lot of attention. We're busy thinking about how we can help colleagues who need support. If you are looking for information and sources of support, just go to the central website. And as a faculty we're also creating a special page about the activities being organised by our faculty staff. Let's all try to come up with ideas for how we can best get through this difficult time.'