Omani Ambassador visits Faculty of Archaeology
The Faculty of Archaeology was honored by a visit by the Ambassador of the Sultanate of Oman. Ambassador Sheikh Dr. Abdullah Salim Hamed Al Harthi had heard of the Faculty's research projects that currently take place in Oman and wanted to learn more about the archaeological activities.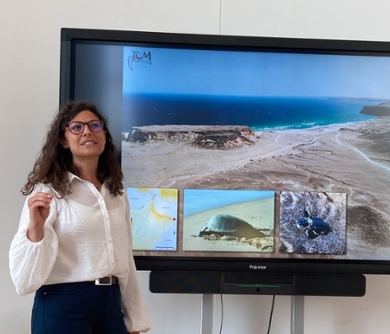 Research projects
The Ambassador was received by the Faculty Board. During lunch three of the ongoing Leiden archaeology projects were presented: The WAJAP project by Dr Bleda Düring, the Ra's al Jinz excavations by Dr Valentina Azzará, and the helicopter areal archaeology by the EAMENA project by Sufyan Al Karaimeh.
The Ambassador and his secretary were very interested in these research projects and asked many questions. Ways in which collaborations might be further enhanced were discussed, as well as how students from Oman might be able to study with us. At the end of the visit the Ambassador and his secretary were given a brief tour of the labs of our Faculty.