Jasper's Day
On January 1st Jasper Knoester started as our new dean. How is he finding it? What kinds of things is he doing and what does his day look like? In each newsletter Jasper gives a peek into his life as dean.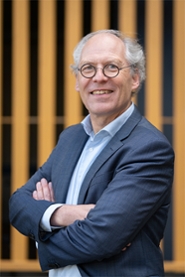 Thursday 5 May
'Today I wake up in Leuven. For the first time in 27 months I am abroad for work. Just across the border, of course, but still! I am making this trip to participate in a meeting of LERU, an alliance of 23 European universities that focuses on the importance of scientific research and lobbies in Brussels. I travelled to Leuven on Wednesday evening and on the way to my hotel, I experienced again how much this beautiful city is bustling with student life. I won't be able to enjoy more of it , as the return journey is already scheduled for tonight.
After a short online meeting with colleagues in the Netherlands, the conference starts in the morning with a consultation between deans of science faculties of the partner universities. Part of this is a very inspiring talk by Jef Peeters from KU Leuven about the application of Artificial Intelligencein the cyclical economy. He talks about his research into machine-assisted disassembly of electronic equipment, and the separation of the parts and materials. It is very impressive how the combination of technology and machine learning is used to recognise, separate and disassemble different parts and materials.
The rest of the morning is dedicated to the topic of research facilities. For science faculties worldwide it is a challenge to accommodate the needs and wishes for such facilities. With the right equipment, we can answer more and more research questions, but it is also becoming increasingly expensive to purchase equipment and support their use. There is no simple solution to close the gap between wishes and available means, but we do agree that it is becoming increasingly important to make choices (you simply cannot do everything) and to share more and more facilities (inter)nationally (in some fields already quite normal).
I immediately feel happy that I came by train
After lunch there is a programme together with the other disciplines. There are presentations by representatives of the LERU organisation (soon to be 20 years old, which will be celebrated in Leiden!) and a story from the European Commission about the development of the Horizon Europe programme. It is good to see that large amounts of money are still made available for scientific research, something which we in FWN also benefit from. After the presentations there are round table discussions on various subjects, including interdisciplinary cooperation and sustainability. Fortunately, the latter topic is becoming more and more prominent on the agenda of universities. It is not only about energy consumption, but also about the many materials we use. I immediately feel happy that I came by train.
I am delayed by one and a half hours because of a prankster who pulled the emergency brake
In the evening, I unfortunately have to return while the gastronomic highlight of this meeting has yet to begin. On the way back, I will be less and less happy with my choice of taking the train: an accumulation of a delayed Thalys, a broken down train before Zwolle and a prankster who tried to pull the emergency brake at Meppel brings me with a one and a half hour delay to Groningen long after midnight. However the partying students returning from festivals for Liberation Day made it a lively ride!'