Leiden University eighth in sustainability ranking for universities and universities of applied sciences
Leiden University has taken eighth place in this year's SustainaBul, the sustainability ranking for universities and universities of applied sciences in the Netherlands. It was in 18th place last year.
Liveable Planet and Institute of Environmental Sciences
The SustainaBul is the initiative of the Studenten voor Morgen student organisation. Thirty-three institutions took part in this 11th edition. The ranking includes the categories of operational management, teaching, research and best practices. Leiden University has a good score for sustainable research. Its Liveable Planet interdisciplinary programme is a good example of multidisciplinary research at the cutting edge of ecology and social systems
The Institute of Environmental Sciences (CML) is also fundamental to sustainable research at Leiden University and its contribution to societal issues. In addition, the range of programmes, electives and minors in the field of sustainability has increased in recent years. Major steps have been taken in operational management, such as using organic and local products in the cafés, increasing vegetarian options and making many of our buildings more sustainable.
Prize for most sustainable thesis for Leiden too
During the SustainaBul ceremony, the Rachel Carson Thesis Award for the most sustainable thesis of 2022 was also presented. This year's winner was Industrial Ecology (a joint master's at Delft University of Technology and Leiden University) student Sietse Gronheid for his thesis on transition experiments in circular construction.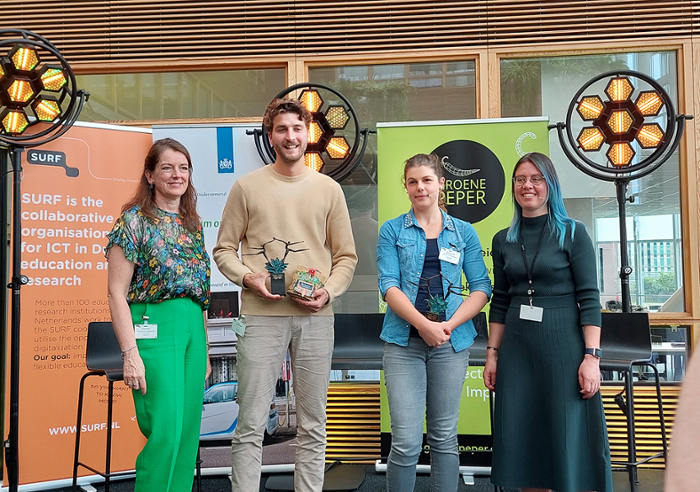 Leiden University Vision on Sustainability
Despite a good place in the ranking, there is still much to be done. For example, there are still opportunities in the field of teaching and operational management. With its Vision on Sustainability 2030, Leiden University is redefining its priorities and increasing its ambitions. An important aspect is for all students to be able to take a course relating to sustainability. The University is also committed to a major energy transition: working towards CO2-neutral campuses by 2050.
SustainaBul encourages Leiden University to work on the visibility of its commitment to sustainability projects. The University will follow this advice and focus more on its sustainability communication.