First patient in the Netherlands successfully treated with stem cell gene therapy
Researchers from the Leiden University Medical Center (LUMC) have successfully used stem cell gene therapy to treat a baby with the severe congenital immune disorder SCID. An important milestone: it is the first time stem cell gene therapy of Dutch origin has been administered to a patient, and also the first time it has been used to treat this particular form of SCID worldwide. The treatment was effective and the patient is doing well.
The patient is a baby who is just a few months old and suffers from SCID. Due to a DNA error in their blood stem cells, SCID patients do not produce immune cells and their body cannot defend itself against infections. Stem cell gene therapy can repair this error. 'The corrected stem cells grew into a functioning immune system in the patient's body,' says Arjan Lankester, Professor of Pediatrics and Stem Cell Transplantation. 'The baby has undergone the treatment without any problems and its immune system is responding well to the usual vaccinations for newborns. A fantastic result.'
Wheelbarrow
Stem cells were taken from the patient three months after birth and a good copy of the gene, in this case the RAG1 gene, was subsequently inserted into the DNA of these cells. 'We use a crippled virus for this,' explains Frank Staal, Professor of Stem Cell Biology. 'We only use the virus's ability to build its own genome in its host's DNA and remove all its other properties. The virus is therefore just the wheelbarrow that brings the gene to the right place.' The repaired cells were then transferred back into the patient, who was allowed to leave the hospital within a month. Staal and Lankester expect the patient to be cured for life with this complex yet one-off treatment.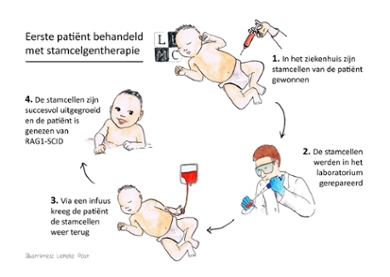 Your own donor
Without treatment, children with SCID often die before the age of one. However, the current treatment, namely stem cell transplantation, has a number of disadvantages. For example, a good donor isn't always available and there are risks to transplanting another person's cells. 'We avoid these problems in stem cell gene therapy because patients are their own donors,' says Lankester. Further research will show whether this therapy will become the new standard for SCID in the future.
Price tag
Stem cell gene therapy is produced in a special laboratory. LUMC is one of the few hospitals in the Netherlands with a licence to genetically modify cell products. 'This means we are not dependent on the pharmaceutical industry,' says Staal, 'which reduces the costs of the therapy to some extent.' However, like other gene therapies, this treatment is still very expensive. 'Since the therapy is still being used for research purposes, it does not cost the patient anything. But the price tag remains unclear for the long term.' Staal recently received a grant to study this. 'Our aim is to develop a method for how society can deal with these therapies. For example, with reimbursement guidelines for policymakers.'
Ups and downs
Lankester, Staal and other LUMC colleagues have been working on stem gene therapy for RAG1-SCID for 15 years. 'The process has had many ups and downs,' says Staal. 'In terms of both developing the therapy in the lab and the paperwork to obtain permission for use in patients.' It was an emotional moment when it became clear that the therapy had worked. 'It is fantastic to see we have been able to help a patient,' says Lankester.
Travelling cells
The ultimate goal is to make this stem cell gene therapy available to patients from all over Europe. Lankester: 'Our motto is: the cells travel, not the patient. This means the patients and their families, who are already going through a hard time, don't have to move abroad for a few months. This sometimes happens with patients suffering from other forms of SCID'. Staal and Lankester are now working to complete the paperwork for this. 'Hopefully, we will be able to help more patients,' says Lankester.