Jasper's day
On January 1st Jasper Knoester started as our new dean. How is he finding it? What kinds of things is he doing and what does his day look like? In each newsletter Jasper gives a peek into his life as dean.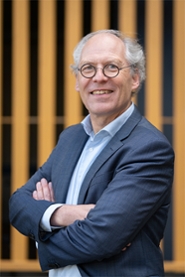 Sunday 22 May
It's Sunday, and normally I wouldn't tell you about my Sunday, but today is the Leiden Science Family Day! An excellent opportunity to introduce the faculty to my wife Xuefei, daughter Jasmijn and son Kamiel.
When we arrive early in the afternoon, it is nice and busy inside and we immediately bump into lots of colleagues with their children. Introductory talks follow and for a while it looks as if we won't even get to the activities, but after a quarter of an hour we really get going. First a quick exploration of the square with science experiments. In Groningen, I often visited open days with the children, where they indulged in making gels, toothpaste, Lego construction kits, special mathematical figures and so on. They have grown out of that now, but it is a great pleasure to see many children busy at the tables, helped by tireless volunteers.
We pay close attention to the demonstration of the Monty Hall problem, the famous problem of the three closed doors. Behind one of the doors is a large prize. As a participant, you choose a door but don't open it yet, and the quizmaster opens another door behind which there is no prize. Should you change your choice or not? Years ago, this caused much discussion in the science section of the NRC. Strange, because it is very easy to determine what is statistically the best choice, especially with the excellent explanation of Hans Finkelnberg who is behind the table this day. The children follow his explanation with interest and now know what to do if they ever get into the situation.
'My family likes to see where I work and is happy to see that I am well taken care of'
We visit all kinds of activities, including Ewine van Dishoeck's beautiful interactive lecture on the James Webb Space Telescope, after which we look at the scale model in the hall. Rino's demonstration of how to use a banana as a hammer is followed with some disbelief, after which the delicious pear ice cream removes all doubt. It is important for my family that we can also visit my office. So they can finally see where I spend my days in Leiden. They are happy to see that it is a nice and light office and that, judging by the box with biscuits and chocolates, I am well taken care of. Which I most definitely am!
'We liked it so much that we are looking forward to the next edition'
We visit the Leidse Instrumentmakers School, where the children are stimulated to think about their future, and finally we go to the Fijnmechanische Dienst and the Elektronische Dienst. We stare our eyes out and Emiel Wiegers makes it even better with a demonstration of the lathe. The aluminium keychain is still on the dining table as a souvenir.
We were not able to do everything that day. We missed the lectures by Carlo Beenakker, Martina Vijver, Gerard van Westen and Suzan Verberne. And we also missed the workshops and tours of the 'Meethal' and NeCen. But don't worry, we enjoyed it so much that we are looking forward to the next edition.
As a family, we ended the day with a visit to a basketball shop in Leiden, a wish of Kamiel. He follows the Dutch and NBA play-offs closely and wants to make the switch from football to basketball after the move. Unfortunately, it is very difficult to get into sports clubs in The Hague and the region. This is still a big challenge for us.
The visit to Leiden is concluded with dinner in an excellent restaurant on one of Leiden's canals, recommended to us by Hermen Overkleeft, whom we happened to bump into. Leiden has become part of the family a little more! After this, Xuefei and the children drove back to Groningen and I stayed behind, so I didn't have to get on the train at dawn on Monday, a pleasant side effect of this very successful Family Day. My compliments to everyone who worked hard to make it happen!