A custom made internship? It is possible at Cross Your Borders
Trail, FGGA's own internship platform, will be one year old in November. High time to get to know the organisations and companies that are making use of Trail. What do these organisations stand for? What are the tasks of an intern? And what do FGGA students have to offer?
For this interview, we talked to Anne van der Stelt, internship supervisor at Cross Your Borders. Cross Your Borders is a non-profit organisation that organise interactive citizenship projects. Their projects are aimed at secondary schools, but they also work with students attending vocational colleges. The project will soon also be available for students in the applied sciences. All projects are carried out by a young team, that mainly consists of interns.
How would you describe the organisation?
Van der Stelt: 'Cross Your Borders is a foundation where everyone is very passionate about what we do. The organisation was founded in 2003 when Michel and Geert, the founders of Cross Your Borders, were still attending university. They were unhappy with their fellow students who were very much aware of the global problems in the world, but who failed to do anything about it. Cross Your Borders was created to make young people more aware of these global issues. These days, we provide more than 250 citizenship projects for secondary schools, vocational colleges and soon also for universities of applied sciences.'
How do you make sure that all those 250 projects run smoothly?
'We have twelve employees and everyone has their tasks and responsibilities. In addition, each employee is a project coordinator and supervises a two-day project at a school. The coordinator supervises the team of interns and acts as a contact person for the school. An intern can also grow into the role of project coordinator.'
What are the tasks of an intern?
'The intern starts as a project supervisor. Visiting a school every week to run a project. You stand in front of the class and teach the students about global issues and what is happening in the world. There is always a teacher present to support you. If the intern works more than three days a week, he or she will be given additional tasks. We take the background of the interns into consideration and what they would like to learn or what is required for their studies. Whether you want to design, develop teaching materials, work on communication or do research into social problems in a particular country, anything is possible.'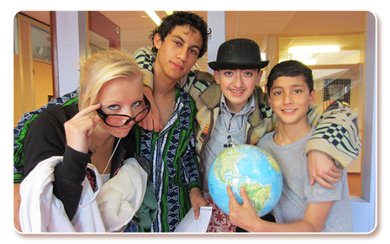 Cross Your Borders is very active on TRAIL, our Faculty's internship database. Why do the students of FGGA appeal to you so much?
'The students who do their internships at Cross Your Borders are interested in solving global problems and are passionate about what we are trying to accomplish. All interns are busy promoting citizenship, explaining what is going on in other countries, and teaching. Because FGGA offers a wide range of programmes that focus on these topics, it is a good fit with all our internship activities. These range from conducting research at an academic level to teaching and preparing projects.'
How is the academic aspect reflected in the internships?
'I can imagine that as a student you think it might be difficult to find the academic components, but that is not the case at Cross Your Borders. Because we have so many different projects and subjects, it is always possible to do research on an academic level. We are also developing more and more school trips to different parts of the world; which interns can help with. They help with the preliminary stages of these global school trips, where students learn how to raise money to pay for their school trip. During a global school trip, pupils and students discover what it is like to live in a totally different culture and are immersed in the customs and habits of the country they are visiting. This can be Nepal, for example, but also Tanzania or South Africa. There are enough possibilities for you to get involved in as an intern.'
Text: Abdelkarim Megaïz
Images: Cross Your Borders