Retrospective 75th anniversary African Studies Centre Leiden
A 'world class institute' with a 'vibrant atmosphere', doing research on a continent that is 'becoming increasingly important'. That is how Annetje Ottow, president of Leiden University's Executive Board, described the African Studies Centre Leiden (ASCL) on its 75th anniversary celebration on 8 September 2022.
Building better understanding of Africa
Prof. Ottow especially praised the multidisciplinary approach of the ASCL, covering different topics such as ecology, innovation and culture. It makes scholars from all over the world want to work there. But despite the growing political and economic importance of Africa, the distance between Africa and Europe has widened, she said. 'Building a better understanding of Africa is crucial, and that is exactly what the ASCL does.'
In her word of welcome, ASCL director Prof. Marleen Dekker said: 'As we are reflecting on 75 years of work on, with and in Africa, it is fascinating to observe the changes in the work we do, how we do it, with whom we do it, and how we represent Africa'. During a panel discussion with societal partners of the ASCL, the importance of disseminating knowledge about Africa in the Netherlands was stressed. A roundtable discussion with five alumnae of African Studies highlighted how their professional careers had benefited from their studies, offering a good foundation, analytical skills and helping them to understand organisations, like governments, better.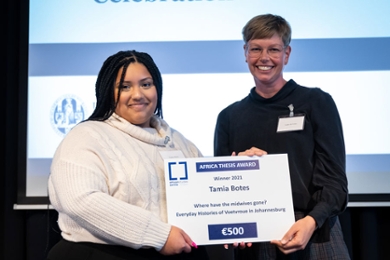 Africa Thesis Award ceremony
During a short ceremony, Tamia Botes (University of the Witwatersrand) received the Africa Thesis Award 2021 for her groundbreaking thesis 'Where have the midwives gone? Everyday histories of voetvroue in Johannesburg'. They are autonomous, self-educated black women who play an important role in the community. Their stories are seldom told or only in a negative way, Botes said. Botes's research made her rethink her own colouredness, she said. Writing the thesis, she learned to let go of the dominant ways of looking at racial categories, but at the same time understood their impact better.
See more pictures of the day or read a longer report.
All photos by Monique Shaw.